Nothing lasts forever. Everything needs replacing at some point, and that includes your lawn mower blade. It may have served you well, but once past its best, continuing to use it will do both your lawn mower and your lawn more harm than good. But how do you know when to replace lawn mower blades? Are there some tell-tale signs to watch out for? You bet there are!
I've changed more than a few blades over the years and you can usually tell when they need changing with a quick inspection. Below I'll talk about the main things to be on the lookout for.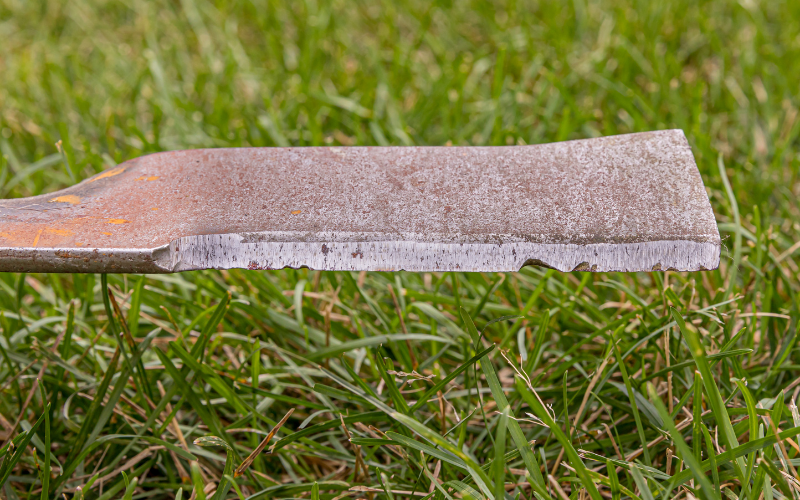 When to Replace Lawn Mower Blades?
It's hard to give a concise answer as to exactly how often lawn mower blades should be replaced (how much you mow, how often you mow, the type of terrain, conditions, etc.), but if I had to give an answer, every 2-3 seasons would be a safe bet for the average lawn mower user. However, rather than using time as an indicator of when to replace lawn mower blades, I'd recommend using your eyes and closely inspect the condition of your blades regularly, particularly when you sharpen them. Signs that tell you when you should buy and install a new blade include large nicks, dents and chips, a bent blade, a blade that has eroded and become thinner, and a blade that remains dull even after sharpening.
When Sharpening is Not Enough and a Replacement Blade is Needed
A lot of folks talk about signs that indicate your blade is no longer sharp enough and when you should sharpen it. But there's not a lot of information out there about when sharpening a blade is no longer enough. Eventually, a blade's condition will deteriorate to the point that the only option is to buy a new one.
But how do you know when you should replace lawn mower blades? Here are a few indicators to look out for.
Significant Chips or Dents in the Blade
I'm not talking about tiny chips, dents or scratches that you can barely see. I'm talking about large chips and dents. The sort that can happen if you run over large rocks, metal pipes or any other type of hard object while you're mowing.
No matter how many times you sharpen your blade, you're never going to repair this damage; it's permanent. "So what?" you might be thinking – "the cutting blade that is still there is sharp…" That might be true, but the trouble is that these dents or chips can lead to an uneven or poor cut that can harm your grass.
The only solution is to replace the blade with a new one to restore the uniform cutting surface.
The Blade has Become Thinner
This is not all that common, at least in my experience, but in certain conditions, it can happen. If your lawn is particularly sandy, sand and grit that is sucked up into the mower deck and then circulated around it at high speeds while you mow can cause a lot of wear and tear. It can lead to holes in the mower deck, but more importantly in the context of this article, it can cause the blade to become thinner over time.
This will reduce its effectiveness, but more importantly, it's dangerous to continue using it. Why? Well, the thinner the metal becomes, the weaker it is. This can lead to the blade breaking while you mow, especially if you happen to run into anything. And broken pieces of a lawn mower blade flying out from under the mower deck during operation is a recipe for disaster.
So if you see that your blade has thinned, you might want to think about replacing it. If you have a sandy lawn, you should also consider getting a low lift blade next time. To find out why, read our piece on low lift vs high lift blades.
Your Lawn Mower Blade is Bent
Similar to chips and dents, a lawn mower that is bent out of shape usually occurs after a heavy impact with a solid object such as a rock. Another thing the two have in common is that a bent blade also necessitates the replacement of the blade.
And the blade doesn't need to be bent over double either. Even being slightly bent out of shape will worsen the quality of cut it provides and increase wear and tear on other components of your lawn mower. Bent lawn mower symptoms are usually very obvious; uneven cut, increased vibration, and noises you didn't use to hear while mowing are all clear indicators.
You could try and straighten it out, but the chances of you getting it exactly right, especially without the necessary skills and tools are very low. Knowing when to replace lawn mower blades is key, and this is one of those times!
The Blade is Still Dull After Sharpening
You should be periodically sharpening your lawn mower blade (1-2 times per season is sufficient for most folks) when you notice that it starts to become less effective and is ripping the grass rather than slicing through it.
However, if you remove the blade, sharpen it as you usually do, re-install it (making sure you get the blade the right way up) and the results are….the same…you'll know it's time for a change. You see, there's only so many times you can sharpen mower blades before you have to replace them. They're finite and their usable lifespan comes to an end at some point.
Make sure that each time you sharpen your blade, immediately after pay close attention to the results that it provides. If you notice that these results are no better than before you sharpened it, replace the blade.
When a Replacement Blade is Required Don't Delay
Now you know how to tell when to replace lawn mower blades. The only other thing I'd tell you is "don't delay" if you spot any of these indicators. Continuing to use a lawn mower blade that is in poor condition is bad for your grass, accelerates the wear and tear on your mower (particularly the engine), and can also be a safety hazard for whoever is operating the mower too.