You might have never known that there were so many different types of mower blades until you went shopping for one for the first time. It's a little bit like that feeling when you go into a candy shop for the first time. They all look good, but which should you choose? One choice that people seem to get stuck on particularly is low lift vs high lift blades. These are both 2-in-1 blades, meaning they allow you to bag or discharge your clippings.  But how do they differ?
The difference between low lift vs high lift blades centers around the back edge of the blade. On a high lift blade, the curve on this back edge has a steeper gradient, which helps to generate more suction and airflow in the cutting deck.
Comparing Low Lift vs High Lift Blades
If you don't know what you're looking for when shopping for a new blade, you may be forgiven for thinking low lift and high lift blades are the same. But they're not. So what are high lift blades and how do they differ to low lift blades? There's one significant difference, which we'll discuss below.
Appearance: Curve on the Back Edge
If you were to have these two blades in front of you right now, side by side, you'd see that there's not a tremendous amount of difference at first glance. Not like there is between mulching blades vs high lift blades, for example.
They both have a similar shape; a relatively straight cutting edge of approximately the same length (this will vary from manufacturer to manufacturer) and an aerodynamic design that helps to cut and discharge clippings from the deck as quickly as possible.
Where they vary, and this is very noticeable on further inspection, is on the back edge of the blade. Both of them have an upward curve. But you'll see that that curve on a low lift blade is really very gentle, while on a high lift blade, this curve is much steeper.
Function: Suction in the Deck
The difference in the curve on the back edge of the blade is very important, because this part of the blade has a big impact on the results the blade generates. Not in terms of the actual cut, but in terms of the "lift" that is generated.
When the word "lift" is mentioned in relation to lawn mower blades, it refers to the suction and airflow that the blade is able to generate. And there's a very simple rule here, the steeper that curve (so the higher the lift), the greater the suction and airflow in the cutting deck.
You might be thinking…why does suction and airflow matter; isn't it cutting that's important?! It certainly is, but so is the suction and airflow. This is because when there's a lot of suction, the grass is pulled into the deck much more effectively and made to stand up tall, so the cut is more even. The increased airflow also means that clippings are discharged from the deck much more effectively.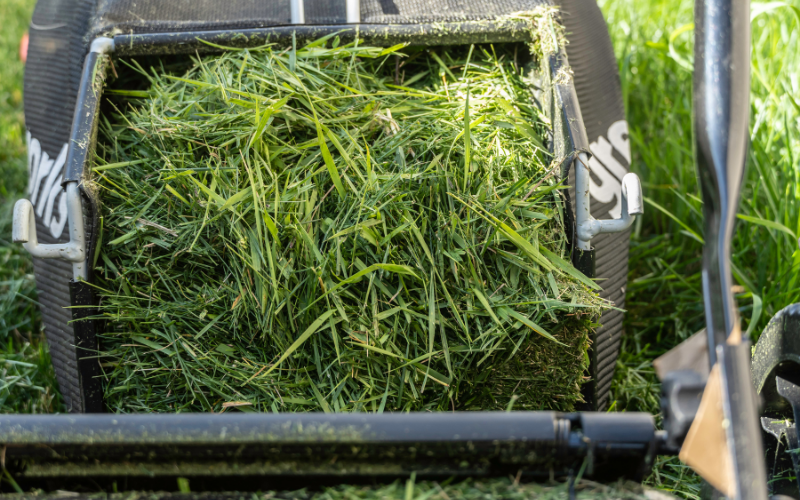 When to Use High Lift Blades
If I were stuck deciding whether to buy a low lift vs high lift mower blade, I'd basically opt for the latter every single time, apart from in one scenario (which I'll talk about below). High lift blades offer superior performance in most conditions, particularly if your grass is not maintained very short throughout the season.
High lift blades are known for bagging and discharging clippings more effectively due to the extra airflow they create, and they also help you to get a more level cut a lot of the time. The vacuum effect they create pulls the grass up into the cutting deck, so it's all stood up properly rather than bent over, which means the blade cuts the grass level. Low lift blades struggle to achieve this on longer grass – some of it might bend over, with other bits stood up, which can give you the impression your lawn mower is cutting unevenly. Really it's just that you have the wrong type of blade installed for the conditions that you're mowing in.
High lift blades are also popular among folks that want to try to produce the best lawn stripes possible. To achieve this effect, the grass needs to be "brushed" in opposite directions on each pass, and the added suction here helps you do that.
When to Use Low Lift Blades
I think there's only really one scenario where I'd go out of my way to choose a low lift blade vs high lift blade. That'd be if I had a really sandy, dusty lawn. Why? Well, this would be the only scenario where the extra suction that a high lift blade produces would be a negative rather than a positive.
A high lift blade is going to suck that dirt and grit up into the deck along with the grass, and having that circulate around the deck accelerates wear and tear massively. This can result in your blade becoming dull much quicker, as well as damage to the deck itself. However, if you use a low lift blade in those conditions, with less suction, this dirt isn't sucked up into the deck to the same extent, so it protects the long-term health of your mower.
Low lift blades are also good if you maintain your lawn very short, as you don't really need the additional lift. Shorter grass maintains its shape better, so strong suction under the deck is not needed to ensure a level cut.
Low Lift vs High Lift Blades: A Quick Recap
Both of these types of mower blades can do a great job. There's no doubt about that. But you must use them in the right conditions. Here's a top-level view of what each blade is capable of:
Low Lift Mower Blades
Allow you to bag or discharge clippings, but not mulch.
Less suction and airflow generated, so generally bagging/discharging of clippings not as effective.
Don't perform well on longer grass.
Great choice for sandy lawns as reduced suction means dirt and grit isn't circulated around mower deck.
Performance better on lawns that are kept short.
High Lift Mower Blades
You can bag or discharge clippings, but mulching is not possible.
Generates a lot of suction and airflow, which means the clippings are bagged and discharged very effectively.
Performs well on all lengths of grass.
The extra suction can ensure a more level cut on longer grass.
Will be more likely to avoid clumping when cutting longer and/or thicker grass.
Not ideal for sandy/dusty lawns, as grit will be vacuumed up into the mower deck, where it will be circulated, causing wear and tear.
So you see, there's a time and a place for both of these blades. It's just a case of comparing the strengths and weaknesses of low lift vs high lift blades, and deciding which matches up to your use case the best.