I know that whenever I have trouble getting my lawn mower going, starter fluid is the first thing I reach for. This trick has saved me countless times, but in some cases, it doesn't quite work.
It's heartbreaking to get your hopes up with a quick start just to have the engine die a few seconds later. I'm no stranger to this situation and have sometimes found myself in it at the beginning of the mowing season.
There are a handful of reasons for why a lawn mower starts with starter fluid then dies, so let's talk about what they are and how they can be remedied.
Why Does My Mower Start With Starter Fluid Then Die? (The Short Answer)
The main reasons for why your lawn mower starts with starter fluid then dies are: issues with the carburetor, a clogged air filter, bad or old gas, spark plugs that aren't firing correctly, and an improper oil level.
It can get a little bit confusing when trying to figure out what problem you might be having, so I'll talk about these issues in more detail below.
Possible Causes of a Mower That Dies After Using Starter Fluid
Most of the reasons why a small engine starts with starting fluid then dies are related to the fuel supply. If you've managed to get the engine turned over with the help of some starter fluid, you might not need to go much further to have it running smoothly.
Let's talk about the possible causes a bit more before getting into the fixes.
Carburetor Trouble
Nobody likes to hear that the carburetor might be the issue, but in this case, it is a very common one.
Starter fluid might be enough to get the engine going initially, but if the carburetor isn't delivering the right mix of fuel and air, the engine won't be able to stay alive.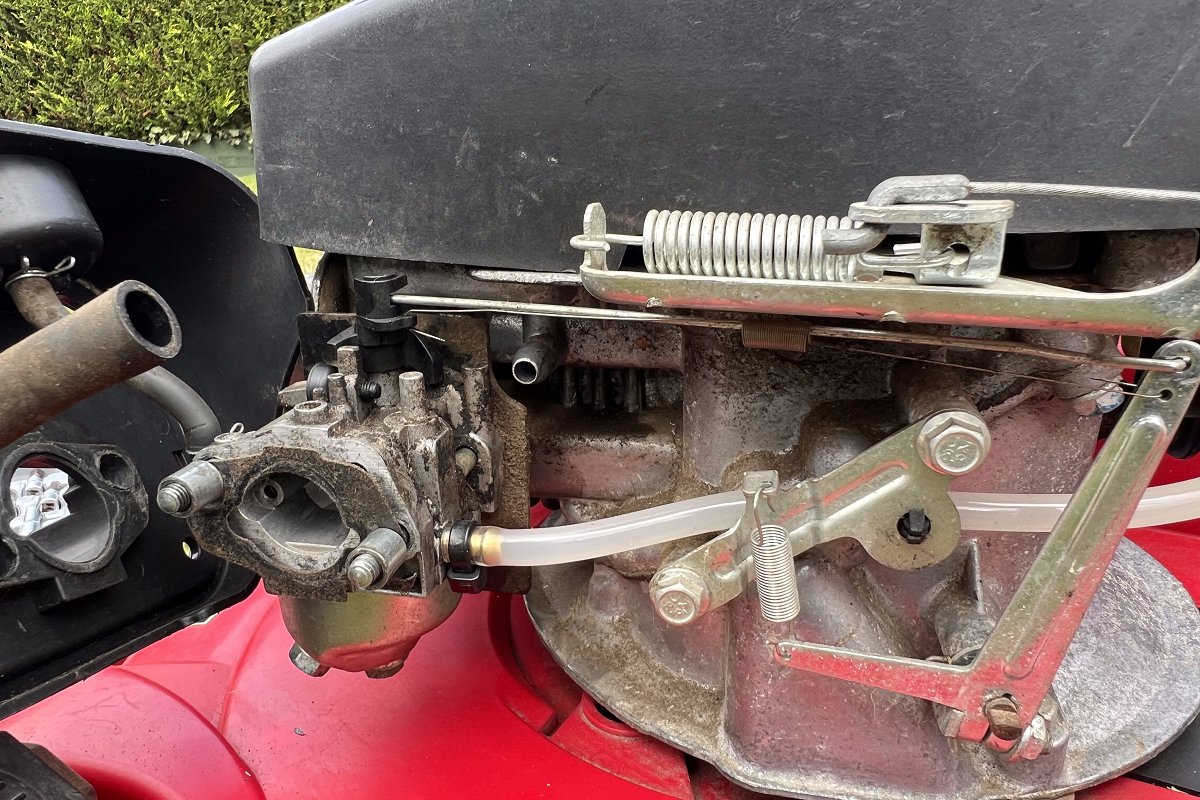 Usually, this happens because the carburetor is dirty. This is especially likely if your mower has sat for a couple of years without running. Leftover fuel that sits in the carburetor bowl creates a varnish-like buildup that gums everything up.
Clogged Air Filter
Sort of like carburetor troubles, a clogged air filter won't let your engine get as much air as it needs to run.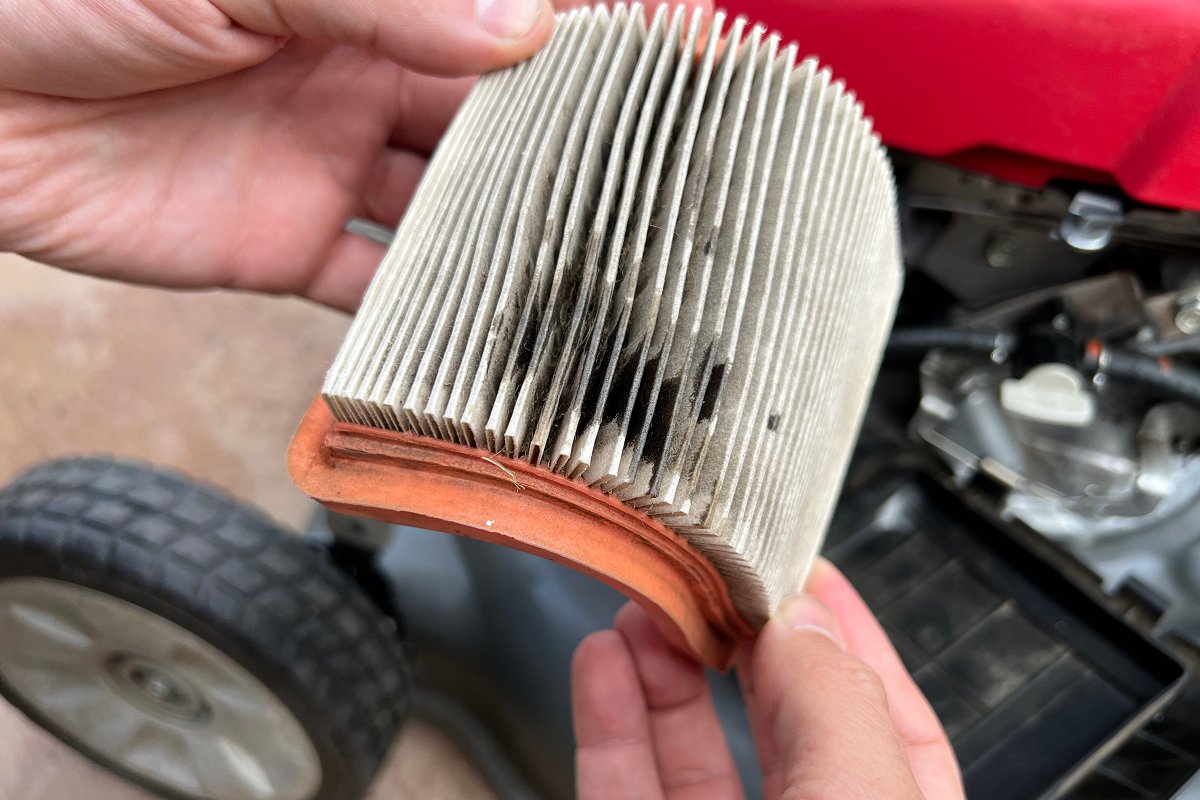 Air filters can get clogged up for a bunch of reasons. Most commonly, they get clogged by oil that has leaked out when tilting a lawn mower incorrectly, or just over time after filtering out all the dust and debris in the air.
This problem is pretty easy to identify – take a look at your air filter and see what condition it's in.
Old Fuel
You can imagine that if a little gas sits for a couple of years and jams up your carburetor, the same could happen in the gas tank.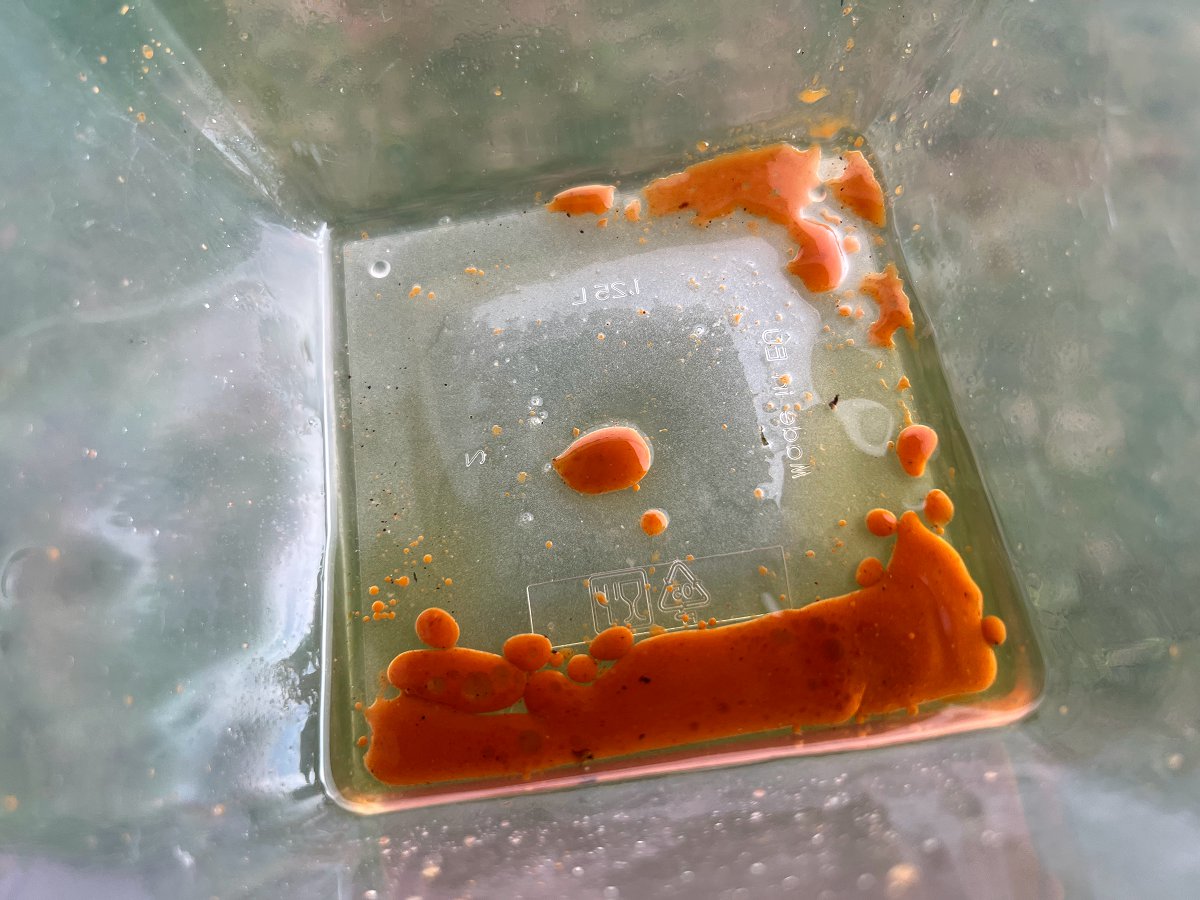 It's hard to say exactly how long you can let gas go before it "goes bad" because it really depends on the type of gas you use. For example, non-oxygenated gas will last the longest, and premium gas will last longer than regular gas.
Adding fuel stabilizer can also help prevent your gas from going bad, but it won't make it last forever.
If you haven't run your lawn mower for an especially long time, the fuel and carburetor should be the first things you check.
Spark Plug Issues
If the carburetor and fuel aren't the issue, maybe the problem isn't with the fuel supply but actually an issue with igniting the fuel. This is where the spark plugs come in.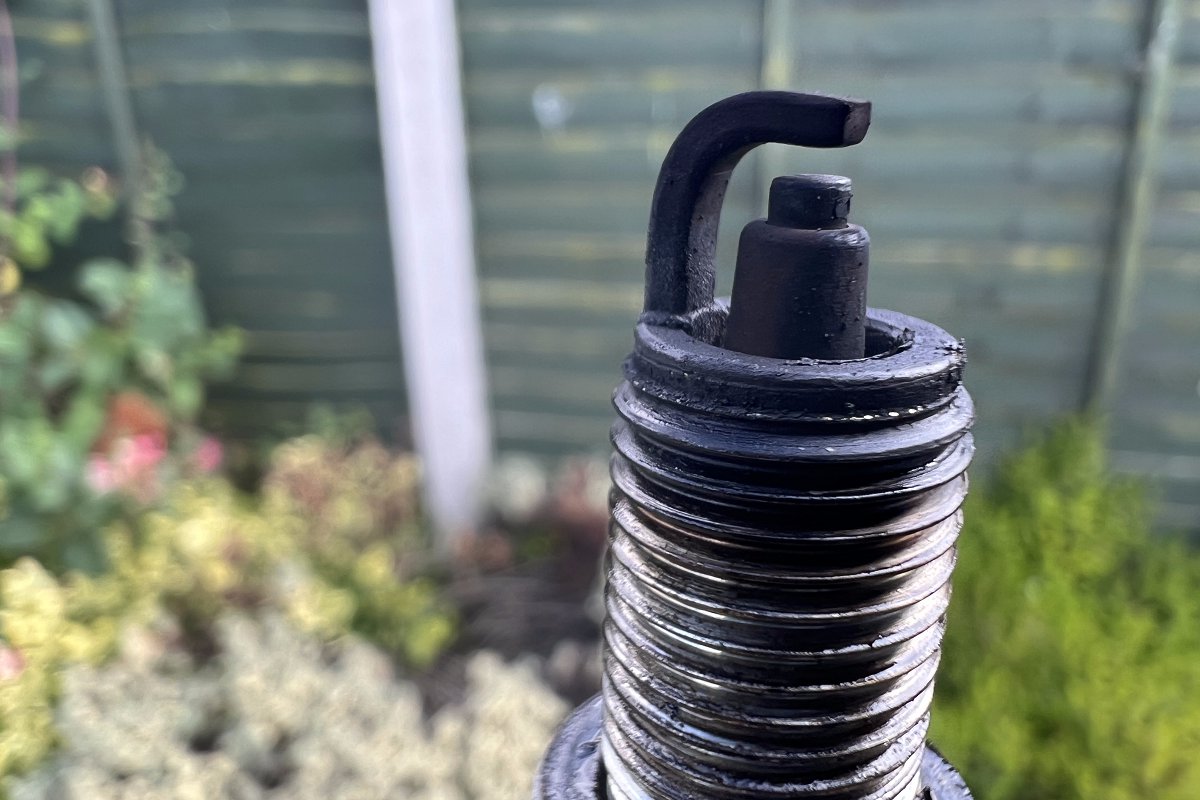 Spark plugs can go bad for a few reasons but are luckily pretty easy to inspect and replace. Knowing when to replace a spark plug is part of good mower maintenance and in this case could even be what gets the engine running again.
If the starting fluid does its job and turns the engine over but the engine dies, it could be caused by a weak spark.
Improper Oil Level
Now, if your carburetor is clean, you've got fresh fuel, and the air filter and spark plug check out, take a peek at your dipstick.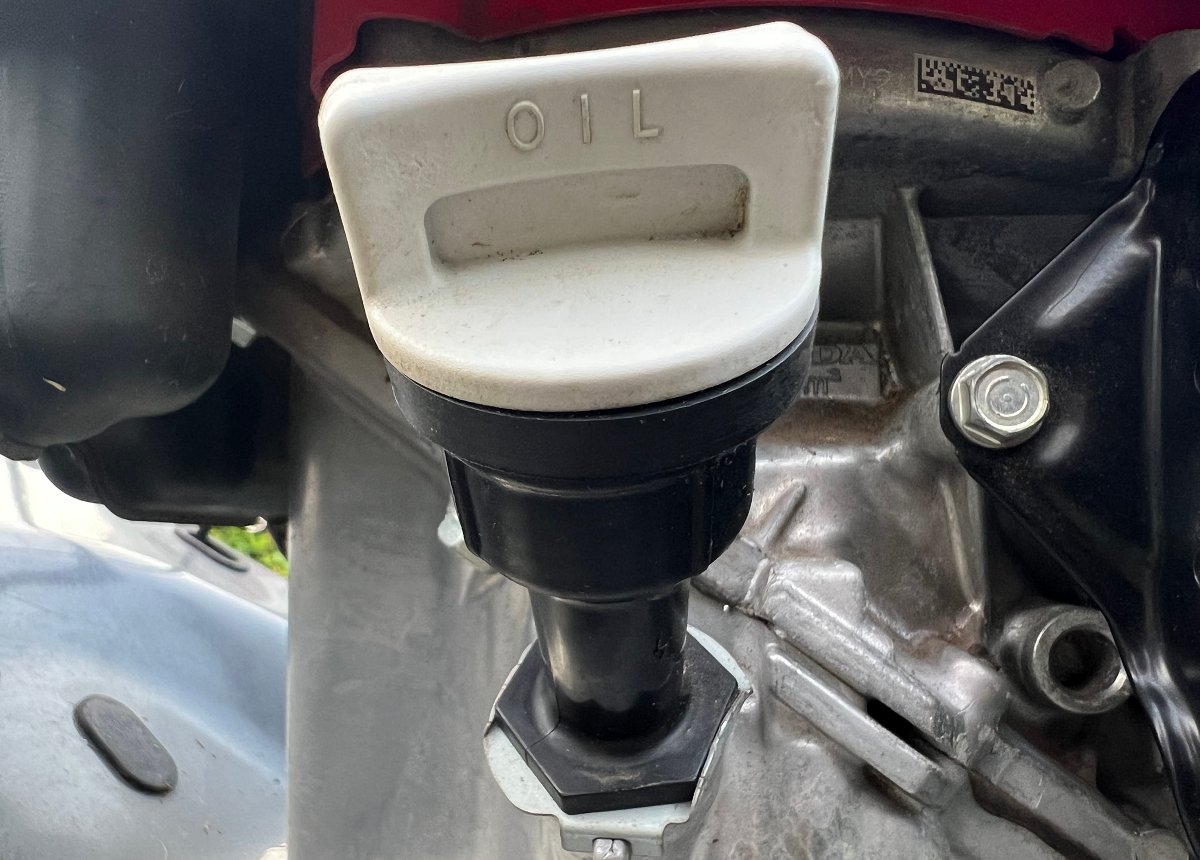 You might not think that putting too much oil in a lawn mower could cause any problems, but it could actually cause your mower's engine to bog down and die.
In a four-cycle engine, this would mean keeping too much oil in the reservoir, and in a two-cycle engine this would mean that the gas and oil mix is too rich (has too much oil in it).
One good way to tell if this is the problem is to watch out for white smoke when starting your mower. White or bluish smoke are telltale signs that the engine is burning oil.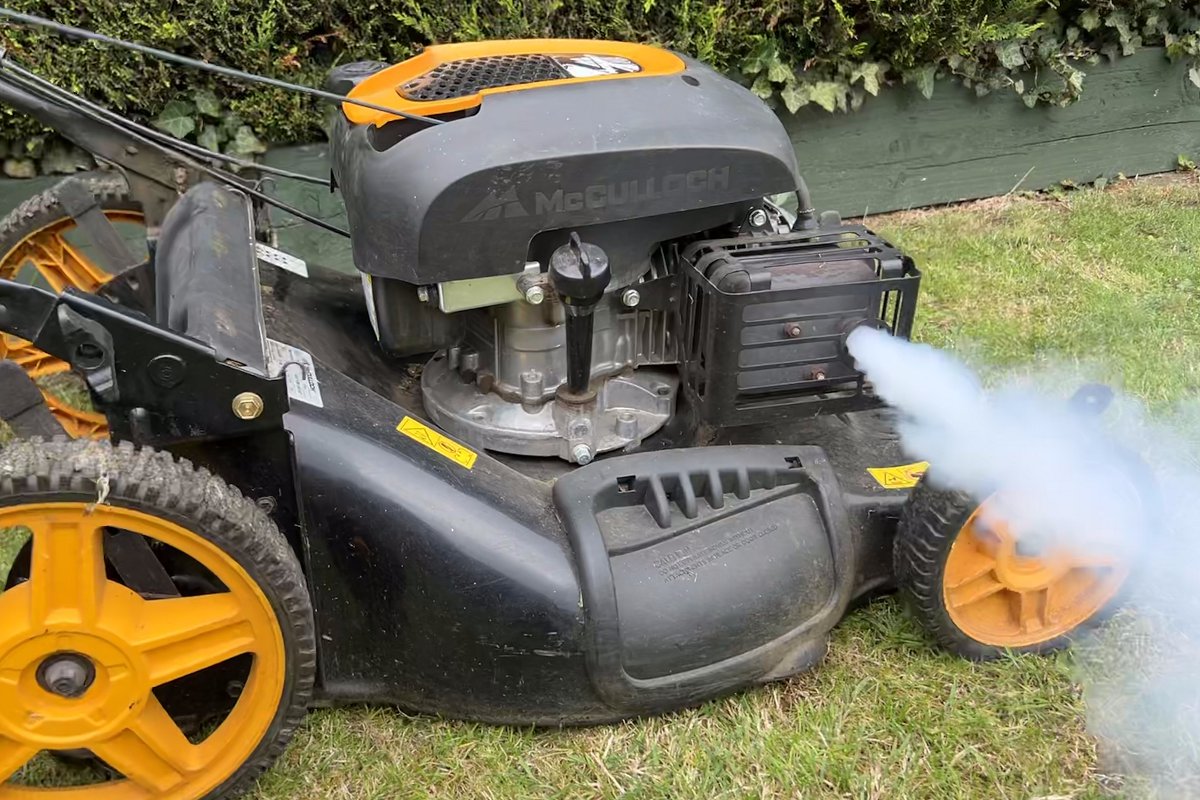 You could also take a look at your mower's exhaust if you have a two-cycle mower and see if there is any unburned fuel dripping out of there after the engine turns over.
How to Fix a Mower that Starts with Starting Fluid But Then Dies
Now that we've talked about diagnosing the problem when a lawn mower starts with starting fluid then dies, let's move on to how to fix these issues.
I'll go ahead and describe the steps you'll need to take, starting with the most common fixes, and ending with the least common ones.
Clean the Carburetor
Cleaning out a carburetor can seem like a pretty daunting task but it's actually not too bad.
First, get yourself a can of carburetor cleaner. I prefer ones that come with a thin straw so you can concentrate the spray exactly where you want it.
Next, put a bit of carburetor cleaner in the air intake/throat of the carburetor. This will allow some of the cleaner to get sucked through the carburetor when you start the motor and hopefully clean some of the gunk out.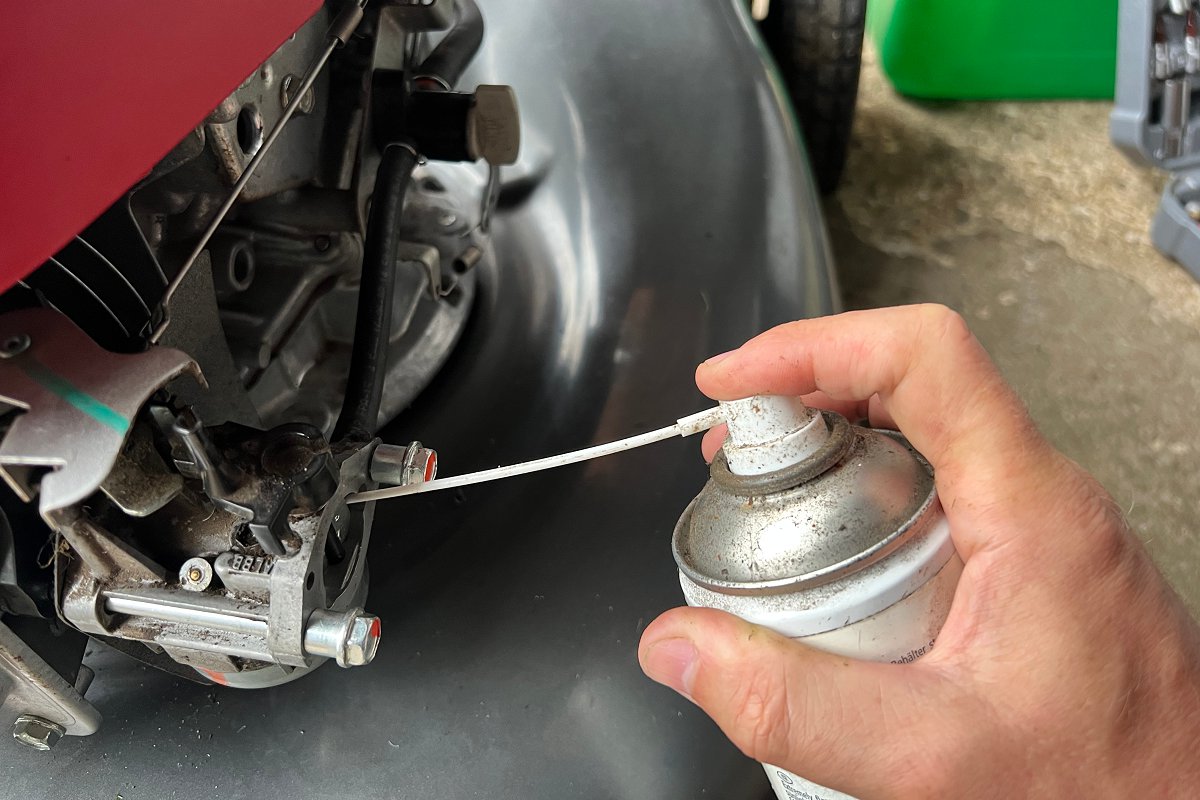 To get at the air intake you'll need to take the air filter off. Make sure you put the filter back on before you try to start the motor though.
If this doesn't do the trick, you will need to disassemble the carburetor and clean out the bowls and jets.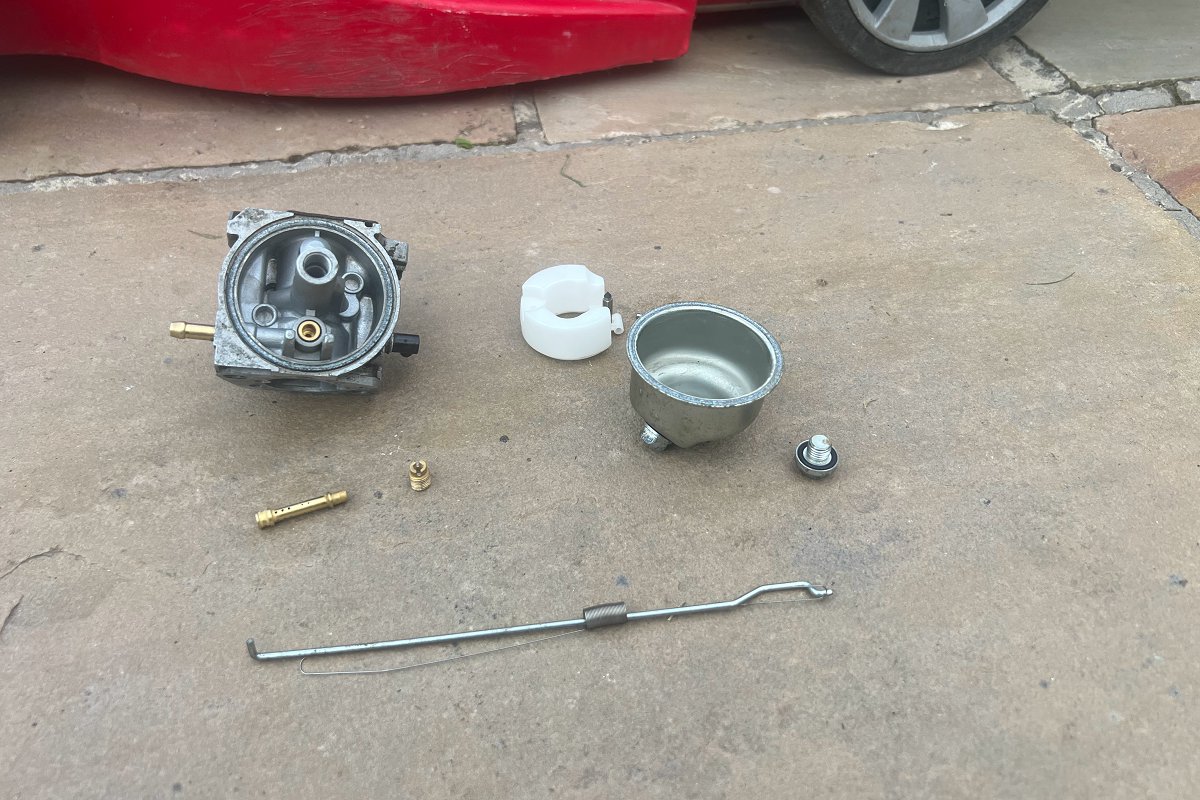 This is a bit more involved, so if you aren't confident in your abilities with this sort of thing, I would recommend enlisting the help of a small engine mechanic.
Swap the Air Filter
Compared to carburetor work, swapping out an air filter is a piece of cake. All you need to do is take a look at your air filter and see what condition it's in.
If it's pretty dirty or has a good amount of oil on it, you should probably replace it.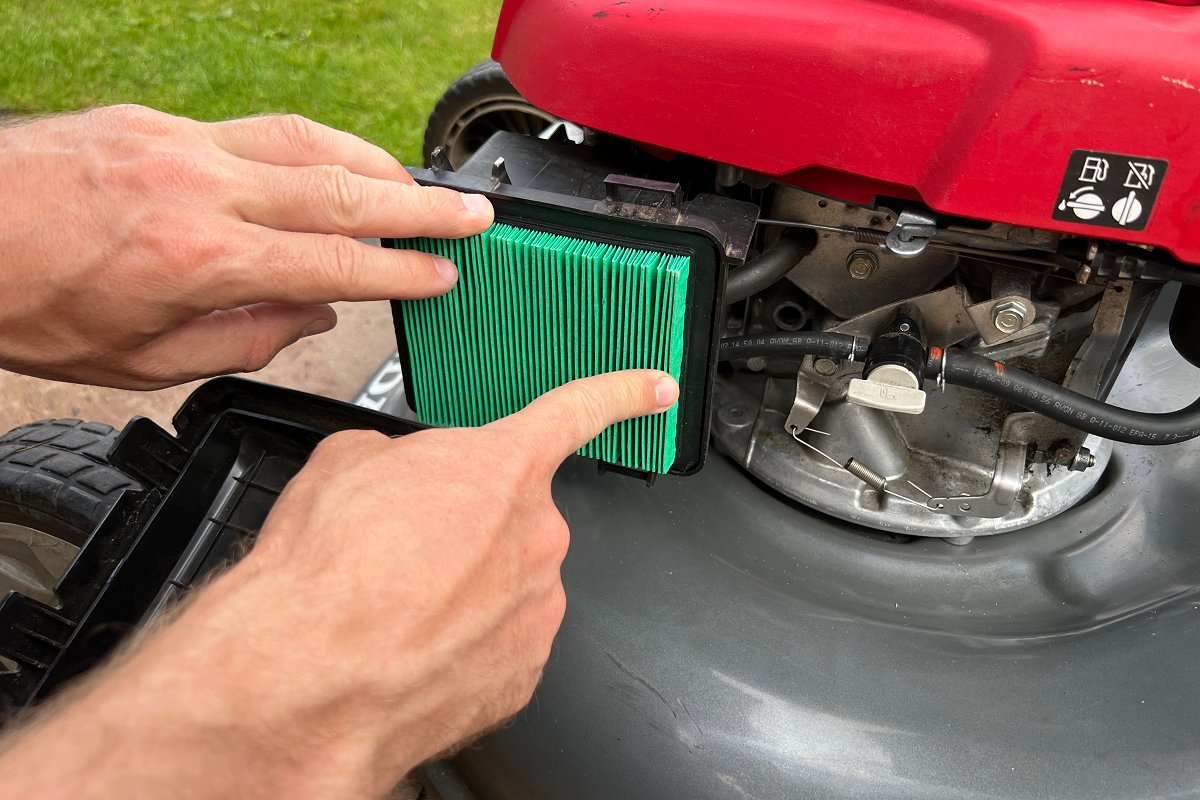 This is another quick job that helps keep your mower running well and it could be the fix to a lawn mower that starts with starter fluid then dies.
Drain and Add Fuel
To get an idea about whether or not your fuel is any good, the first thing you should do is try and figure out the last time the lawn mower was running.
Premium and non-oxygenated gas can typically last the better part of a year without any fuel stabilizers, but regular gas isn't as reliable.
If you just can't remember when the mower was last refueled, you'll need to inspect the fuel in the tank.
Take the color, smell, and clarity into consideration. If the color seems to be especially dark/amber, the fuel might be bad. As far as smell, many people say that bad gas has a sour or pungent smell rather than the typical gas smell. And lastly, if you notice a bunch of particles floating in the fuel, it is probably not good.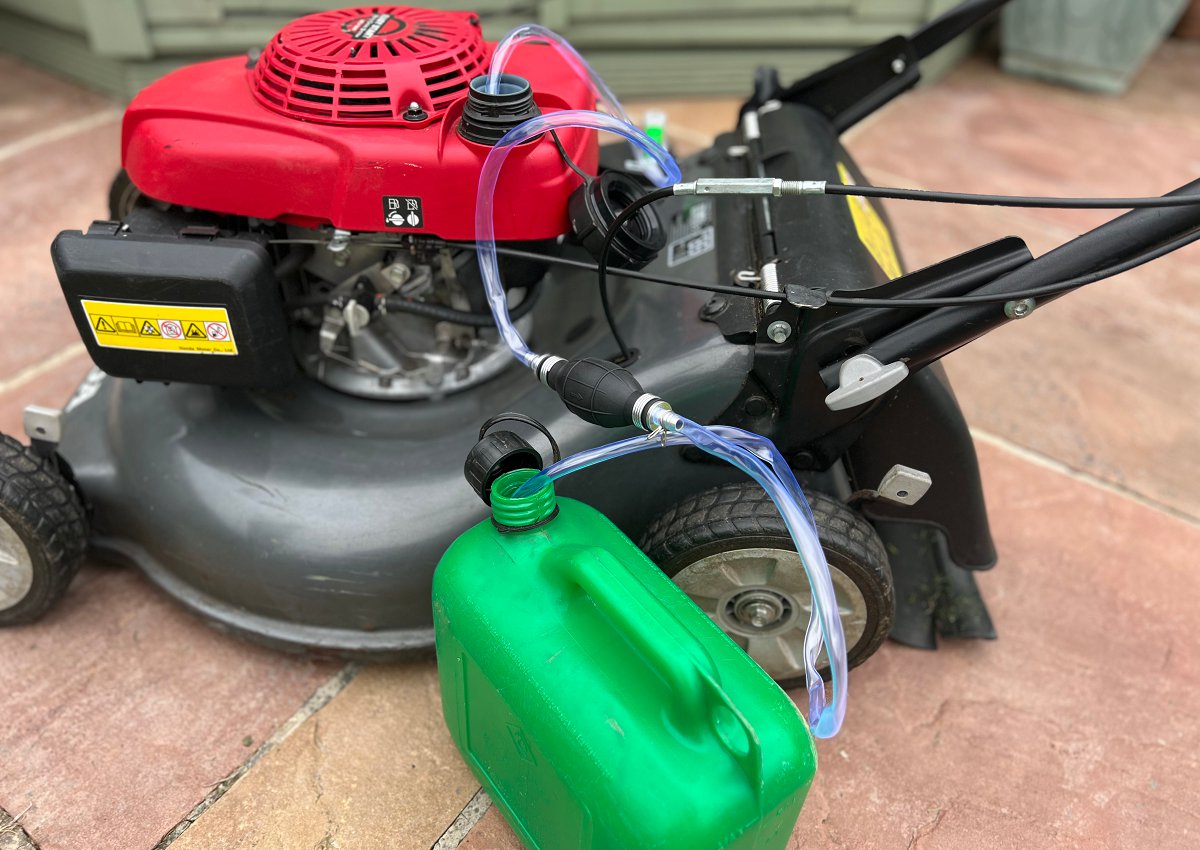 If you have old or bad gas, go ahead and drain it out before putting in new gas. You can either use a siphon or tilt the mower on its side to pour the fuel out. I actually wrote a piece on draining gas from a lawn mower without a siphon
Replace the Spark Plug
To get at your spark plug, you'll need to remove the spark plug wire and get a deep socket or spark plug wrench.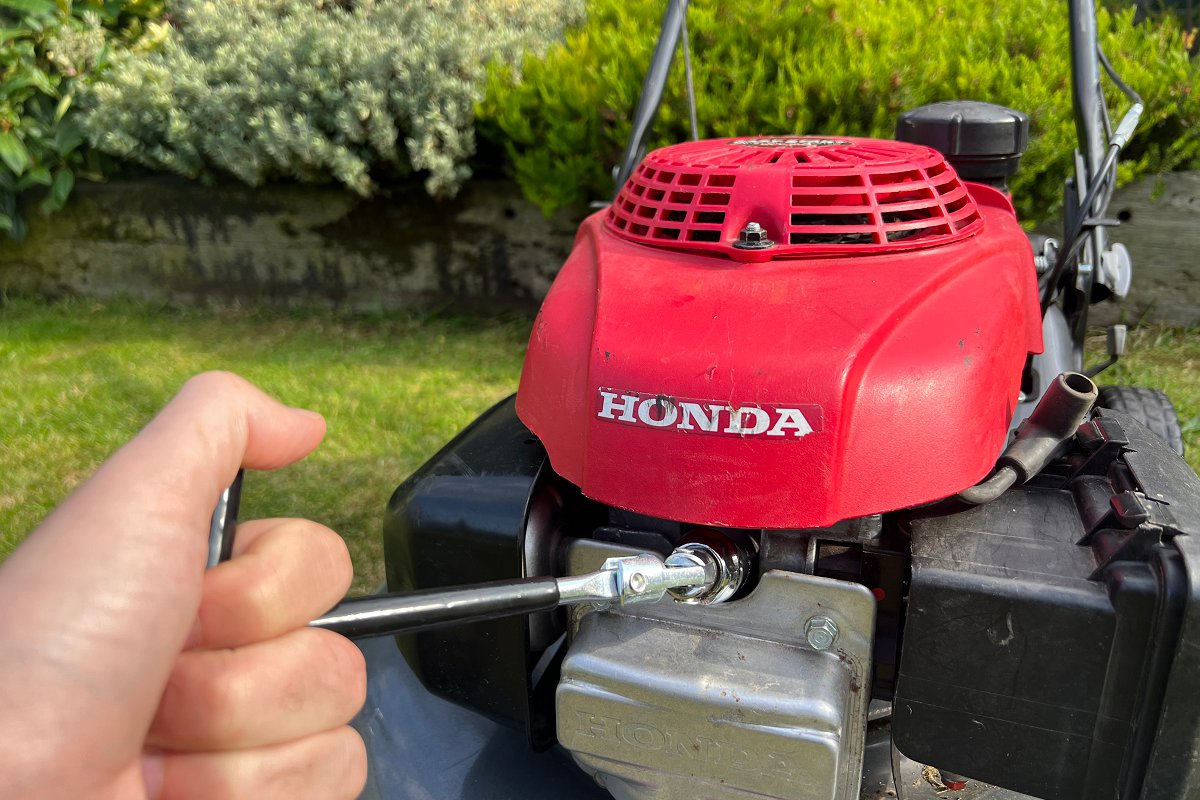 After unscrewing the spark plug, look at the electrode at the bottom of it and see if it's blackened with carbon or covered in fuel/oil.
If it isn't excessively dirty, or cracked, you might be able to clean it off well enough to work. However, since they're inexpensive, and it's good practice to replace your spark plug every season, I would recommend replacing it.
Once you have your new or newly cleaned spark plug, screw it back in, attach the spark plug wire, and give it a go.
Adjust the Oil Level
If nothing else works, it certainly won't hurt to double check your oil level.
On a four-cycle lawn mower: remove the dipstick, wipe it clean, reinsert it, and remove it again to properly gauge the level of oil in the reservoir.
If your lawn mower is low on oil, be sure to bring the level up to the recommended range. If you have too much, you'll need to drain off the excess and measure the level again.
If you have a two-cycle mower, you won't be able to check the oil level, so if you suspect it is too rich, you'll have to drain the fuel, make a new gas/oil mixture, and refill the tank.