If you have an electric or manual lawn mower, read no further! This question only arises in circumstances involving gas-powered engines. Whether or not you're familiar with exactly how a gas engine works, you have probably heard of a spark plug. Just like the name suggests, this plug produces a small spark, and is in charge of igniting the fuel that enters your engine. Though it is small, you'll need that spark to start and run your mower.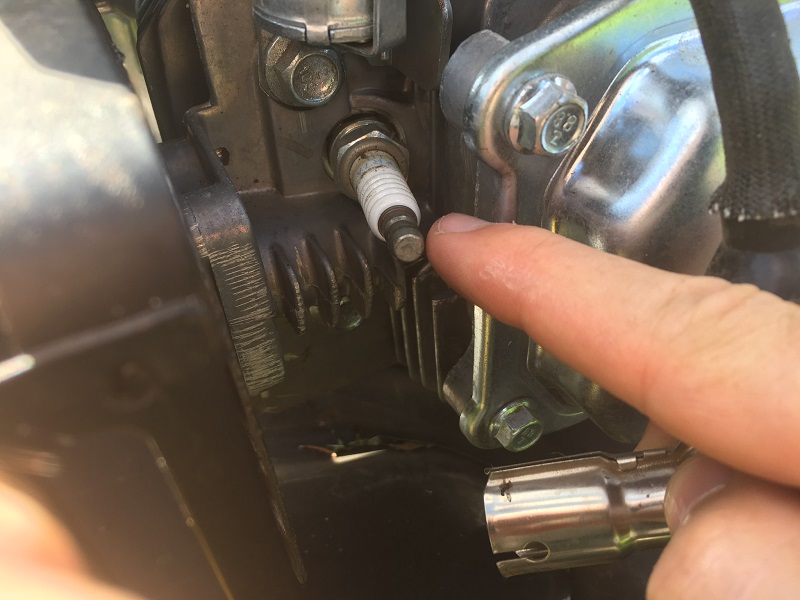 So, How Often to Change Your Lawn Mower Spark Plug?
In short, you should change your lawn mower's spark plug once every season, or if your lawn mower won't start.
Because spark plugs sit somewhere in the $5 range and are fairly easy to replace, I've found starting each mowing season with a new one to be a good system. However, when your lawn mower won't start, a whole new set of questions is in order. How long do spark plugs really last, why do they need to be changed, and is the spark plug even the problem?
How Long Do Lawn Mower Spark Plugs Last?
The standard life of a lawn mower spark plug is 25 hours. It doesn't matter how well you take care of your lawn mower, spark plugs wear out after about a season's use. If you don't keep a record each time you cut the grass, the 25-hour number can be a bit obscure (which is why the practice of replacing your spark plug seasonally works well). But if you use your lawn mower a ton, it might benefit you to maintain a general idea of how many hours you run your engine. In either case, adding a spark plug swap to your DIY arsenal can certainly help prevent nasty surprises.
Why Do Spark Plugs Need to be Changed?
They simply aren't built to last the entire lifetime of a lawn mower. Spark plugs wear down over time as the electrodes at the bottom of them are made shorter and more blunt with each spark created. Once they are worn, they struggle to create a sufficient spark to start and run the engine.
Here are some other factors that can damage spark plugs and even render them useless:
Oil in the Combustion Chamber – Over time, seals wear out and oil can leak into the chamber where the plug sparks. This leads to oil fouling the tip of your spark plug and can damage and shorten its lifespan. If your lawn mower seems to be burning oil, it could be an indicator that your spark plug isn't working properly.
Carbon Buildup – If you remove your spark plug and see it caked in black soot, this is likely the culprit. Caused by debris entering the area where the spark plug ignites, this buildup can also weaken the part.
Overheating – Caused by many things involving a faulty cooling system, this is another cause of premature spark plug wear. Repeated overheating wears down the electrodes on the plug and strains the spark.
It is worth taking note of these common issues when you are trying to determine if your spark plug is functioning or not.
Is the Spark Plug the Problem?
This is the million-dollar question. My lawn mower isn't working, how can I tell if it's the spark plug's fault? Well, there are usually a couple of telltale signs.
For riding and push mowers alike, worn out or damaged spark plugs are often to blame for having trouble getting your lawn mower started. Without a sufficient spark, it takes more work to get and keep the engine going. If it's taking you several additional pulls on the starter rope, or your ignition doesn't work right away, your spark plug could be the issue.
Next, if you have managed to get your lawn mower started but it has a really rough idle or seems to be misfiring, that's another sign of a bad spark plug. If the process of combustion gets disrupted it can lessen the performance of your lawn mower's engine resulting in sputtering, popping, or missing.
Finally, if you seem to be running out of gas more quickly than usual that could be another spark plug problem. Often when a spark plug is failing the engine will burn gas inefficiently. If this is the case you might notice a strong smell of gasoline when you're running your lawn mower.
Cleaning Versus Replacing a Spark Plug
These are the two options you'll be looking at if you have a spark plug that isn't working as it should:
Cleaning – If you remove your spark plug and find that it is not overly worn you can definitely consider reinstalling it. This is a good option if you notice that there is just a little bit of oil, gasoline, or carbon buildup on your spark plug but the electrode and porcelain sheath are in good condition.
Replacing – Because they are so inexpensive, if you have any doubt about the state of your spark plug the best option is to buy a new one. This might save you a good deal of time and stress.
If you decide to clean your spark plug and give it another go, you'll just need a soft-wire brush or some spark plug cleaner to remove anything coating the spark plug. Soft brushes are a must because you don't want to use anything that could damage the spark plug further. You'll also want to work in a clean area and be careful not to get any dirt or debris into the area where the spark plug sits.
Spark Plugs in Summary
If your spark plug does end up being the problem, lucky you! It's a simple fix and can make a big difference, sometimes with just a cleaning. Having an idea of what to look for and how often to change your lawn mower spark plug is a good way to maintain your lawn mower with fewer problems. Not having any gas in your mower is probably the number one reason for starting troubles, but spark plug issues are a close second.