If you store your lawn mower in your garage or shed and it is starting to smell like a gas station, then your mower probably has some type of gas leak. Not only can this be annoying, but it can also be quite dangerous. So, to stop your lawn mower from stinking up your garage, let's take a look at the possible causes and where the leak might be coming from.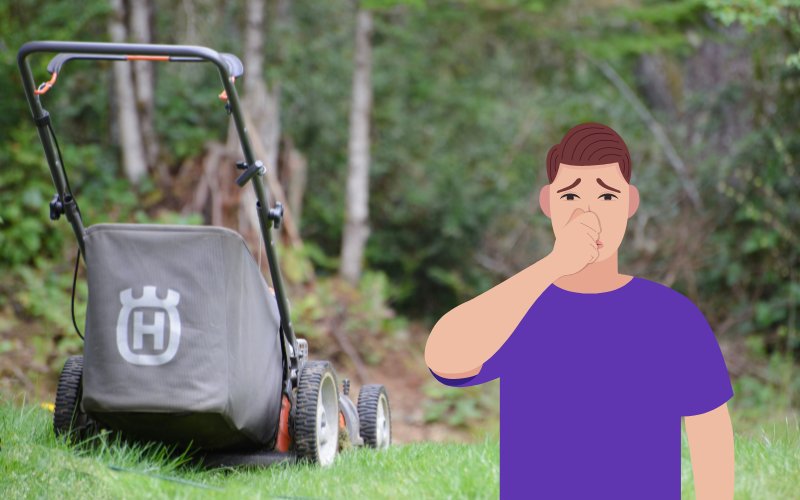 Why Does My Lawn Mower Smell Like Gas? (The Short Answer)
Usually, the strong smell of gas coming from a lawn mower is created by a fault with one of the components within the fuel systems or an incorrectly fitted part. So, if your lawn mower smells like gas, here's what could be causing it.
Faulty Gas Cap
Faulty Gas Tank
Damaged Fuel Line
Broken Fuel Filter
Damaged Fuel Pump
Carburetor Issue
Leaking Primer Bulb
Leaking Fuel Cut-Off Solenoid
Poor Connection Between Components
9 Possible Reasons Your Lawn Mower Smells Like Gas (+ What You Can Do)
As you can probably already tell, there are lots of different places your lawn mower can leak gasoline. So let's dig into my list of 9 possible places and see if we can find out why your lawn mower smells like gas.
Faulty Gas Cap
Most lawn mower gas caps are vented. This means they have a tiny hole to allow pressure out of the tank when the lawn mower is in use. As long as it's not damaged, this small ventilation hole shouldn't be causing the strong smell of gas. But if the o-ring on the underside of the gas cap is either missing or worn out, this could be enough to allow gasoline fumes to escape and be why your lawn mower smells like gas.
So remove the gas cap and inspect the o-ring, then check that the vent isn't broken. Getting a replacement could be a good idea if you are in doubt. Oh, and make sure you get the right replacement, as gas caps are not universal.
Faulty Gas Tank
Usually, lawn mower gas tanks are made of fairly strong plastic, but this doesn't make them indestructible. For example, if you have been working on your lawn mower or run it into a fence, you could have cracked your fuel tank or damaged it, causing it to leak. So, closely inspect the gas tank and see if there is an obvious leak.
Also, try poking the gas tank. You might find that by flexing the tank's plastic, a crack opens up that you would not normally see. If you do come across a leak, then you'll need to drain the fuel tank and, unfortunately, install a replacement. But at least you will have found why your lawn mower smells like gas.
Damaged Fuel Line
The fuel lines are the next item to check when trying to figure out why does my lawn mower smell like gas. These are the small rubber tubes that connect all of the components in the fuel system. Unfortunately, these are very delicate parts, so if you snagged them on a bush or something similar, then they could have split.
Also, if you have an older lawn mower, the fuel lines could have started to break down. This is pretty common on most lawnmowers, no matter their cost. Things like fuel spillage, the beating sun, and even how you store your lawn mower can affect your fuel lines and speed up the deterioration process. So, you'll need to inspect the line for cracks, splits, and holes.
Taking a similar approach as the gas tank, give the fuel line a poke and see if you can make any fuel leak. If they are bad, you probably won't even need to do this since they will probably be dripping gasoline. If you do find any kind of leak, then you'll need to replace the engine fuel line between the two adjoining components.
Broken Fuel Filter
Now it's time to take a closer look at the fuel filter. This little filter filters out all the junk and impurities in the fuel before it reaches the engine. So, if you follow the fuel line from the gas tank, you'll come to the fuel filter. It's time for some more poking. Give the filter a squeeze and see if you find a leak.
These parts only cost a few dollars, so they are not all that strong. Usually, they are tucked out of the way, so they are fairly well protected, but if they get stabbed with a stick while you're mowing under a bush, then they can easily be damaged. If there is a leak, then you'll need to pull out your tools and replace your fuel filter.
Damaged Fuel Pump
Next along the fuel system after the fuel filter is the fuel pump. This little mechanical pump pushes the fuel from the tank to the carburetor while the engine is running. Again, these can suffer damage from either being hit or deteriorating from sun damage, which causes the plastic pump housing to become brittle and finally crack. Once again, check the pump and look for an obvious leak.
Also, you might be able to find the leak easier if you start up your lawn mower, which will cause pressure in the pump to form. Just be careful because I've had a cracked fuel pump that squirted gas all over my lawn. A damaged and leaking fuel pump needs replacing.
A Carburetor Issue
A carburetor can leak in many different places, from the fuel cup on the bottom of the carburetor to the seal between the engine and the carburetor. So, you guessed it, more inspecting and poking. First, you need to look around your lawn mower carburetor and see if you notice any wet areas that could be gasoline.
Also, you want to make sure that the carburetor is securely mounted to your lawn mower. It's pretty common for the carburetor mounting bolts to come loose with all the vibration the mower makes while in use. So, if the carb is loose, try tightening it back up. If the fuel bowl is loose, then again, tighten it back up. If anything looks damaged, then you need to find a replacement. Alternatively, you could replace the entire carburetor if this makes things easier.
Leaking Primer Bulb
Primer bulbs are notorious for breaking and splitting. This is usually down to them drying out and then splitting when pressed. So, just press the primer bulb and see what happens. If it was leaking, then you'll probably need to press it a few times since the gas has probably evaporated or leaked out.
If the primer bulb is broken and split, you'll need to install a new one. If you don't replace this part, you will not only have a problem with the smell, but you'll also have difficulty priming and starting your engine. Thankfully a primer bulb only costs a few bucks to purchase and only takes a few minutes to install.
Leaking Fuel Cut-Off Solenoid
Those of you with larger lawnmowers, like tractor mowers and zero-turns, will have an extra component attached to your carburetor. This is the fuel cut-off solenoid. This solenoid closes as soon as the lawn mower is turned off and stops fuel flowing through the fuel system. It's basically a safety system within the lawn mower design.
Now, the only thing stopping the solenoid from leaking is a tiny o-ring that sits between the solenoid and the carburetor's fuel cup. So, if the solenoid becomes loose or the o-ring splits, then fuel will leak. You'll first want to try tightening the solenoid to see if this stops the leak. If it doesn't, then you want to inspect the o-ring and install a replacement if there is any damage or if it has been squashed very flat.
Poor Connection Between Components
The last item to check if you are trying to figure out why does my lawn mower smell like gas is the connection between parts. So, you have already inspected the fuel lines, but there's one more element to check. You'll need to inspect the connections between the fuel lines to the various components. It will help if you use some type of clip to hold the fuel lines in place to stop them from coming loose or leaking. Usually, you'll find that using little spring clips at both ends of the fuel lines does the trick.
In addition to this, the fuel line needs to be pushed on each component the right amount, or they could leak. First, check that all the clips are in place, then check how far the fuel line is pushed onto each component. If you see that the pipes can go on further, then slide off the spring clips with a pair of pliers, push the fuel line on as far as it will go, then reposition the spring clips.