A key element to a healthy lawn is having a nicely sharpened blade. Now, this all sounds pretty straightforward, but how to tell if your lawn mower blade is dull? Well, there are plenty of signs that you can look out for that will give you an indication that you have a sharp mower blade vs a dull one. So let's take a look at what dull mower blade symptoms look like.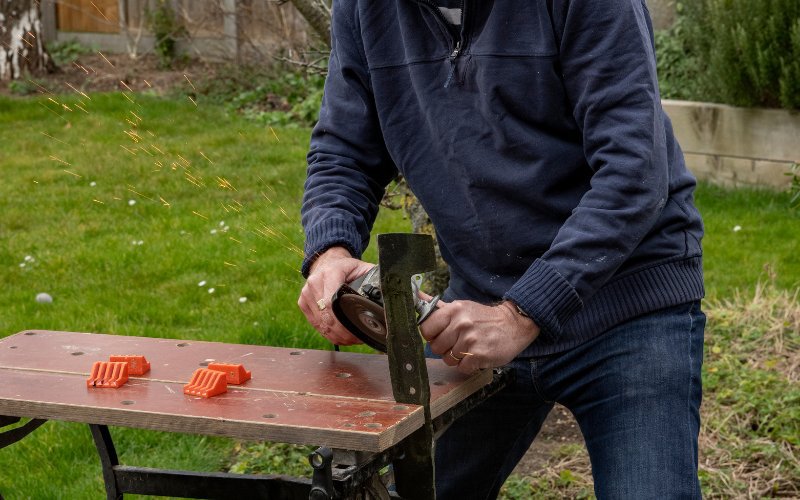 Signs That You've Got a Dull Mower Blade (The Short Answer)
Dull lawn mower blades pose a problem for both your lawn's health and your lawn mower's performance. Here's what you should be looking out for if you are concerned about dull lawn mower blades.
Mowing the Same Area Twice
Mowing Time Increases
Pushing Your Mower Harder
Torn Grass Blades
Damaged Looking Blades
A Stalling Mower
Browning Lawn
The Grass is Being Pulled Out
A Long Gap Between Sharpening
How to Tell If Your Lawn Mower Blade is Dull (10 Common Symptoms)
So, how to tell if your lawn mower blade is dull? Well, going through the list of symptoms will definitely help. Let's dive in and see which of them you might be dealing with.
Uneven Cut
An uneven cut is probably the first thing you will notice when having dull lawn mower blades. If you notice that the lawn is uneven after mowing and some parts don't look like they have even been mowed, then I'm pretty sure your blades are dull.
Mowing the Same Area Twice
If your lawn is uneven or patchy, you might find yourself having to mow over the same area twice to achieve the even finish you are looking for. If this is the case, then this is a clear indication that you have a dull mower blade. Instead of doing extra mowing, the best thing to do here is to stop mowing and sharpen your blade.
Mowing Time Increases
If you find that you have to mow slower because your lawn mower blades need longer to cut the grass, then, you guessed it, your blade is dull. Using that extra time to sharpen your blade instead will likely save a lot of time mowing.
Pushing Your Mower Harder
Not only will it take a long time to mow with dull blades, but you'll also probably find it harder to push your lawn mower. As the mower struggles to cut the grass, it takes power away from the drive and focuses it on the blade. In other words, the mower will need to work a lot harder, requiring you to use some extra effort.
The best thing to do is remove your mower blade and get it sharpened. Now, if sharpening isn't something you want to try doing yourself, you could use a professional service to sharpen your blade instead.
Stalling Mower
One of the side effects of a lawn mower struggling to mow is that it gets bogged down. The lawn mower will stall when there is more grass than it can handle. Also, you'll find that the lawn mower overheats. Both of these situations will cause your lawn mower to suffer avoidable wear and more than likely reduce the engine's life span.
Damaged Looking Blades
There are a few different elements to consider when it comes to a dull lawn mower blade. For example, the blade might lose the correct cutting angle and can no longer cut efficiently, plus the blade might become damaged. Damage can happen if you hit a few rocks in the yard, which will dull your blade at the point of impact.
So, even though most of the blade is sharp, parts of it might not be. Even if you have a new lawn mower with a new blade, you can damage the blade in the first few minutes by hitting a rock. At this point, you'll need to inspect the blade for damage and consider if the blade needs to be replaced (here's how to tell when to replace a mower blade). You'll definitely need to sharpen the blade even if you can't remove it, but this does make balancing the blade impossible, which isn't ideal for your lawn mower.
Torn Grass Blades
Now it's time to take a look at the lawn to inspect the cut. The one thing that a dull lawn mower blade cannot do is make a clean cut. So, if you inspect the grass blade tips, you'll be able to see how they have been cut. A sharp blade will make a single straight cut without any tearing. On the other hand, a dull blade will rip the grass and leave behind a raggy-looking blade. This is a clear indication that the blade needs to be removed and sharpened.
Browning Lawn
If you notice your lawn starts to turn brown a day or so after mowing, then this could be down to the raggy grass blades that the dull cutting blade left behind. The browning becomes much more noticeable when a large surface area of the grass has been cut.
Usually, a sharp blade will only cut the width of the grass, whereas a dull blade makes zig-zag tears. So, if you add all of the torn sections on the grass blade, this is a far greater area than the straight cut of a sharp blade. This brown color is a sign you need to be sharpening your lawn mower blade more often.
The Grass is Being Pulled Out
If your lawn mower blade is very dull, then you'll find it loses pretty much all of its cutting ability. All that the blade can do is smash and rip the grass apart. So, if you are cutting long grass with a very dull blade, you'll notice that the blade starts to rip the grass out by the root, which is definitely not good for your lawn.
Long Gap Between Sharpening
The last item on the list isn't really a sign or a symptom, but it will help you when figuring out how to tell if your lawn mower blade is dull. Remembering how long it has been since you last sharpened your blade is a good way to tell if your blade is dull. Ideally, you should sharpen your lawn mower blade a few times per season if you want to achieve a nice clean cut and avoid problems with your lawn mower and lawn.
So, if it's been a few years since you last sharpened the blade, then the blade is definitely dull. Also, if you have an old blade that you have been sharpening for years, there might not be a lot of blades left, so it could be time for a new blade.