If your zero-turn mower doesn't have tracks and full suspension, then you probably experience a jerky and jarring ride every time you mow the lawn. While most of us would like a more comfortable ride, it's unlikely we'll spend a fortune on a state-of-the-art zero-turn. So, what can you do to make a zero-turn mower ride smoother? Well, here are a few tips I've learned that have made mowing my lawn a much more enjoyable ride.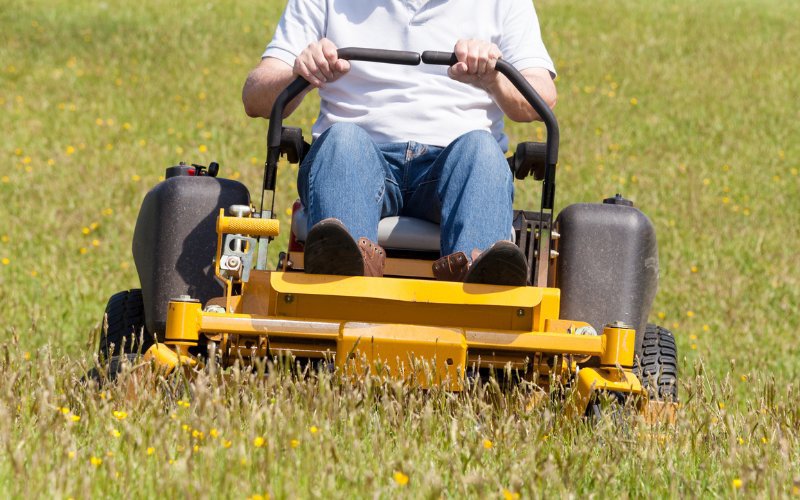 What You Can Do If Your Zero-Turn Rides Rough (Quick Overview)
Instead of breaking the bank for a new mower, there are a few different areas you can modify to get a smoother ride on your zero-turn lawn mower. Luckily, some of these include things you can do today without having to pull out your wallet and tools. But if you're looking to make the ride even smoother, there are some universal upgrades available for most zero-turn mowers. Here are the areas to look at.
Pick the Right Zero-Turn
Adjust Your Driving Speed
Carry Out Regular Maintenance
Have the Correct Tire Pressure
Fuel Distribution
Replace the Seat
Swap Out the Dampening Springs
Add a Seat Dampening System
Change the Front Yokes
Change Out Solid Wheels
How to Make Your Zero-Turn Ride Smoother (10 Ideas)
Let's take a closer look at the different things you can do to achieve a smoother ride on your zero-turn lawn mower.
Pick the Right Zero-Turn
If it's not too late and you're still looking at purchasing a new zero-turn, then you should research the different suspension options available. If you know that you have a bumpy yard, you can select a zero-turn to suit your needs and avoid having to put up with an uncomfortable ride. Here are some of the suspension options available that you can consider for your new zero-turn mower.
Front Yoke Suspension (Front Wheels)
Rear Wheel Suspension
Seat Dampening
Soft Seat Options
Rear Tracks vs Rear Wheels
When considering a new zero-turn mower, our Zero-Turn Lawn Mower Reviews might be useful.
Adjust Your Driving Speed
One of the key selling points for zero-turn lawn mowers is that they are fast. Unfortunately, this means people have a tendency to go full speed and feel every bump in the lawn. I always find it easier to go a bit slower when mowing a particularly bumpy area to achieve straight lines while avoiding bouncing around too much.
Carry Out Regular Maintenance
Regular maintenance is vital to avoid problems like jerky controls and your mower pulling to one side. These types of issues can add to your bumpy ride and make your whole experience uncomfortable. So, routine inspections of your lawn mower will ensure you spot any potential issues before they become major. Loose bearings in the yokes or poorly adjusted control levers are just a couple of areas that will improve your ride if properly maintained.
Have the Correct Tire Pressure
Zero-Turn tire pressure is important not only if you're looking to achieve a nice, even cut on your lawn but also if you want to limit the bounce as you drive. So, as a rule of thumb, I check my tire pressure every time before I head out to mow. If you have a tire pressure gauge, you can check all 4 tires in just a few minutes. It really can make a big difference in smoothing out your ride.
Fuel Distribution
Some bigger zero-turns have two fuel tanks that can hold 5 gallons each. The big commercial mowers have even bigger fuel capacities. So, if you are driving a fully fueled lawn mower with 10 gallons, you will have 84 pounds of additional weight. This means the mower really presses down on the lawn and feels every hump and bump.
If you have less fuel in the tanks, you can reduce the weight and the bumping. The downside is that you might have to head back to the garage for a refill in the middle of your mowing session, but at least it will be a less bumpy ride.
Also, if you have a zero-turn with two fuel tanks, one on each side of the mower, then try using a quarter of a tank at a time. By this, I mean use a quarter of one tank, then switch to the other tank. This helps to avoid weighing down one side of the mower and making it less stable. If you have a bumpy ride and poor traction, this trick can help.
Replace the Seat
We all want our lawn mowers to last a long time and look good. Unfortunately, a hard seat is part of this equation. Brands like Husquvarna install seats with very little cushion and a hard seat shell. These might last a long time and stay in pretty good shape even with some heavy use, but they don't provide much comfort and suspension.
Places like Tractor Supplies, the national farm supplier, stock high-quality seats that can replace your existing seat. Usually, with a socket wrench and a spare ten minutes, you can install a new seat and greatly improve how smooth your zero-turn feels.
Swap Out the Dampening Springs
If you lift up the seat on your zero-turn, you might be lucky and find a pair of dampening springs designed to cushion your ride. If you happen to be a Cub Cadet owner, you'll know the factory springs are extremely stiff and don't really provide any suspension. If anything, they make the seat feel more like an ejector seat when you hit a good-sized bump.
My advice? Grab a wrench and install a set of aftermarket springs with a softer tension.
Add a Seat Dampening System
So, what can you do if you lift your seat and don't find any dampening springs, like on an Exmark Lazer? Well, you're going to have to take a different approach. You can install a plate between the seat and the mower that incorporates a spring suspension system. All you need to do is remove the existing seat, attach the dampening system, then reinstall your seat.
You only need to consider that dampening systems lift the seat a few inches. So, you need to make sure your zero-turn mower has enough clearance between your lap and the control levers. This normally isn't a problem since you can adjust most levers at their mounting point.
Change the Front Yokes
The majority of zero-turn lawn mowers have ridge front wheel yokes that hold the front wheels in place. So, unless you buy a zero-turn with front suspension, you are stuck with the yokes your mower came with. Fortunately, aftermarket manufacturers started making suspension alternatives to bypass this issue.
So, if you have a mower like a John Deere or a Kubota, you can head to the store and pick up a pair of Z-Glide replacements. This kind of upgrade really does smooth out your ride. All you need is a socket wrench and a jack, and you'll have your new suspension installed in no time.
Change Out Your Solid Wheels
If you asked me how to make a zero-turn mower ride smoother, I'd say swap out your solid wheels. Solid front tires definitely eliminate the problem of getting a flat, but they do not make for a comfortable ride. So, you'll have to decide between an occasional puncture vs a zero-turn mower that rides rough. I'd definitely pick a smoother ride over back pain.
Things to Avoid to Make Your Zero-Turn Smoother
Now, I've heard people talk about lowering the tire pressure on their zero-turns to get a smoother ride. I really wouldn't advise this unless you want to start having problems with how your mower cuts and mower traction.
Incorrect tire pressure is the main reason your zero-turn will make uneven cuts. The deck has been specifically set to the height of the mower's front and rear. As soon as the tires are incorrectly inflated, the deck will no longer be level, and your cut will be uneven.
Now, you could level the cutting deck to the reduced tire pressure, but this will not account for the deforming of the tire over uneven surfaces. So, instead of using this method to avoid a rough ride, I'd try one of my tips instead.