Air pressure is super important when it comes to tires on anything from trailers to airplanes. Zero turn and other riding lawn mowers are no different.
Still, keeping up with your lawn mower's tire pressure might not be something that comes to mind until you notice that one tire looks a bit flat.
Luckily there are some basic guidelines for the best tire pressure for zero turn mowers.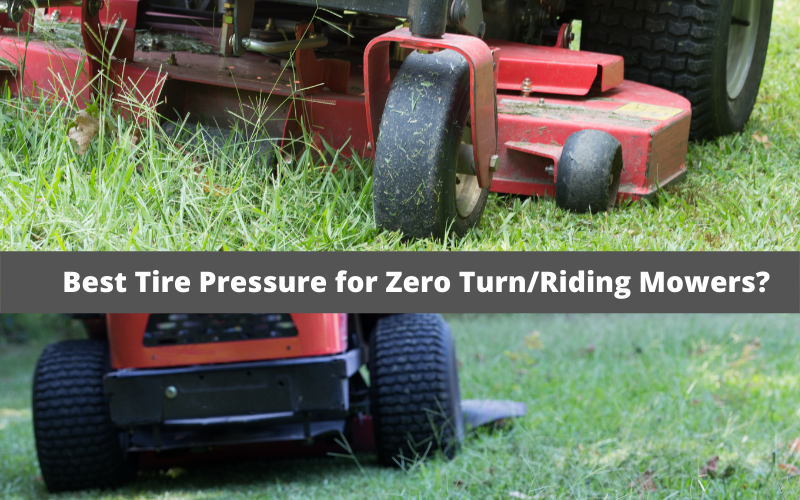 Best Tire Pressure for Zero Turn Mowers? (The Short Answer)
In general, the best tire pressure for zero turn mowers is 14 PSI for front tires and 10 PSI for rear tires. Any type of riding lawn mower, whether it's a Cub Cadet, Craftsman, John Deere, Husqvarna, or Toro, will usually follow this rule of thumb when it comes to tire pressure.
However, be sure to take a look at the side of your tires before filling them with air. The tires will show a PSI rating that may be different.
Why It's Uber Important Your Tire Pressure is Right
When it comes to a riding lawn mower, tire pressure is extremely important. If you have overinflated your mower's tires, you'll hurt the quality of your cut. If your tires have too much air in them, the mower deck will bounce around and cause the blades to cut unevenly.
Also, overinflating your tires can reduce the amount of traction you get. Without the proper amount of flex, the treads will struggle to dig into the ground. This can result in your lawn getting torn up while mowing, as the wheels lose traction and leave skid marks.
Lastly, filling your tires with too much air can lead to a puncture or blowout. Riding mowers go over a lot of bumpy and sharp terrain and the added stress on the tires from extra air can result in an annoying and costly flat.
Tires with too little air can also cause problems. The main one is that you'll end up damaging the tire.
Without enough air pressure, the tire will bow as you corner and you'll end up wearing down the inner and outer edges. This can shorten the life of your tire very quickly.
Also, running on tires without enough air in them can lead to damage to the rim as well. If you run over a large root, pothole, or rock with a deflated tire, you might dent the wheel.
This is also bad news for your tires as they might get pinched and cut between the rim and whatever obstacle you roll over.
Signs Your Riding Mower's Tire Pressure is Wrong
Luckily, there are a handful of telltale signs that your tire pressure is wrong.
Here are a few of the most common things to look out for when assessing your riding lawn mower's tire pressure.
Flat Tires
When I find myself wondering what PSI should lawn mower tires be, it's usually after I already have a flat tire.
This may seem pretty straightforward, but running with tire pressure that is too low is the most common inflation issue. Tires lose pressure over time due to things like cold weather or leaky tire valves.
The good news is that it's super easy to tell if you don't have enough air in your tires. If you notice the bottoms of the tires bulging a bit or even just suspect that your tire pressure could be low, it probably is.
I've made a habit of checking my tire pressure every couple of times I mow to stay on top of it.
Trouble with Traction
Getting worse than usual traction when the ground is dry? This is usually due to tires that have too much air in them.
When it comes to zero turn, riding, and lawn tractor tire pressure, you need to have a tire that is firm enough to hold its shape but flexible enough to grip onto obstacles that you're bound to roll over.
Traction problems can also arise from too little air in the tires. If you have problems with traction while cornering, you might need to add some air.
In either case, If you have hills in your yard you're bound to struggle with at least a few traction problems. But running your mower with properly inflated tires will help it to perform the best.
Uneven Cut or Bouncing 
Another consequence of overinflated tires is excessive bouncing while mowing. While even the nicest riding mowers bounce a bit when going over bumps, too much bouncing is uncomfortable and will affect the quality of your cut.
Tires not only need to have enough give to increase traction, but also to provide a smooth ride. If you're bouncing all over the place when mowing, you might have overinflated tires.
Too much air pressure in your tires takes away their ability to absorb shock when running over rough ground.
Usually, it is pretty easy to notice if your ride is particularly bumpy, especially if you've gotten used to your normal route.
Still, being uncomfortable while mowing isn't the main issue here. If you're bouncing up and down while cutting your grass, so is your mower's deck.
Which is why you may see your lawn mower spitting out grass, and end up with an uneven and patchy cut. This looks bad and can also affect the health of your grass.
How to Make Sure You Have the Best Tire Pressure for Your Riding Mower
Making sure that you have the best tire pressure for a riding mower doesn't have to be overly complicated. In many ways, it's like getting the tire pressure right on your car or bike.
I'll go through the process, step by step, that you can follow to maintain the tires on whatever kind of riding mower you might have below.
1. Measure Current Tire Pressure
Grab a tire pressure gauge. It doesn't matter whether you use a stick, dial, or fancy battery-powered one.
Unscrew the tire valve cap and push the tool onto the tire valve to get a reading. I like to get at least two readings to be sure that I've measured accurately.
2. Double Check Pressure Ratings
Once you know what the air pressure is in your tires currently, you need to find out exactly what PSI your tire is rated for. This number is usually printed into the sidewall of the tire.
Using a damp cloth to wipe the sidewall can make the numbers easier to read. Keep in mind that the front and rear tires of riding mowers usually have different ratings.
If for some reason you can't find the ratings on your tires, look up the manufacturer's recommendations.
After you've determined what your tire pressure should be, maybe your suspicions were wrong and your pressure is already spot on. In any case, it's good practice to check regularly.
3. Add or Remove Air
If your tire pressure is off, you'll need to add or remove some air. To add air, you'll need an air compressor. If you don't have one, go to a gas station or ask your neighbor if you can borrow theirs.
Slowly add a little air at a time and continue to measure as you go.
To remove air, reverse this process and let tiny amounts of air out at a time. This will help prevent you from letting too much air out and having to deal with putting more back in.
A good way to let air out of the valve is to prod it with the end of your gauge or another thin, blunt object like a key.
4. Measure Tire Pressure Again
Once you've got the pressure where you think you want it, measure it again.
Getting your tire pressure spot-on can be pretty satisfying and your lawn and riding mower will thank you for it.
If you can get in the habit of regularly monitoring your tire pressure, you can likely avoid all of the problems that come with tires that have too much or too little air.