Crossbow Herbicide is marketed as the solution for the overgrowth of woody plants and large-leaf weeds for home, farm, and pasture. It's rain-fast in as little as two hours and has very few health warnings listed on the label. Still, does Crossbow live up to its claims and spare your lawn while easily getting rid of all weeds and brush?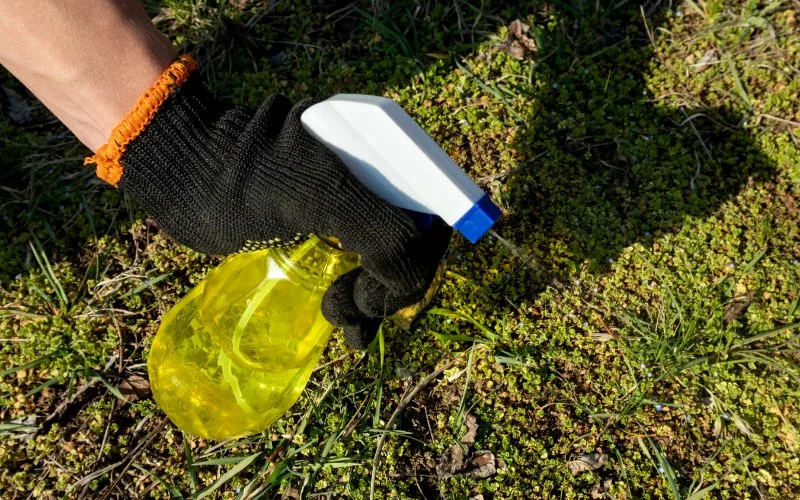 Will Crossbow Kill Grass?
In reasonable conditions, Crossbow will not kill grass, as long as it is a "true" variety of grass. Crossbow is designed to spare grass and anything that's not a woody or broadleaf plant. It does this job remarkably well, too. However, there may be a few safety concerns beyond what is required to be printed on the label. Crossbow is also not recommended for use on "alternative" lawns that are made up of any plant other than a common variety of grass.
What Is Crossbow Herbicide?
Crossbow has two main active ingredients. First, there's 2,4-D and this makes up 34.4% of each gallon. 2,4-D works by disrupting the plant growth systems. This causes uncontrolled growth and unsustainable, rapid cell production. Both amine salt and ester versions of 2,4-D exists. However, the ester versions are currently banned in some countries due to health and environmental concerns.
The second active ingredient, in a concentration of 16.5% per gallon, is Triclopyr. Triclopyr is classed as an herbicide with "moderate" health effects in humans and may be dangerous to small animals exposed to the substance. The EPA has listed Triclopyr as "Toxicity Category III" as it is an eye and skin irritant and may be absorbed through the skin. It is recommended that anyone using Triclopyr, and by extension Crossbow, should wear protective gloves. Mild triclopyr exposure is also known to harm birds and be fatal to saltwater fish and marine life.
Related Article: What Kills Grass? A Comprehensive List
Can Crossbow be Used on Lawns
To thoroughly answer the question, "Will Crossbow kill grass?" below is a list of some of the most popular lawn and ornamental grass types, as well as Crossbow's effects on them. The single caveat to all of this is that Crossbow, or any herbicide containing 2,4-D, should only be used on established lawns. It may still be deadly to seeds, seedlings, and new sprouts.
Will Crossbow Kill Pampas Grass?
Though Pampas grass is an ornamental plant, it's still a type of grass. Crossbow does not harm Pampas grass if the herbicide is used in recommended quantities.
Will Crossbow Kill Bermuda Grass?
Crossbow should not harm a Bermuda grass lawn as long as that lawn has been well established.
Will Crossbow Kill Johnson Grass?
Johnson grass, or Johnsongrass, is typically considered a "weed". However, Johnson grass is one variety that is considered safe from the effects of Crossbow.
Will Crossbow Kill Fescue Grass?
Crossbow is one of the better herbicides for established Fescue lawns, as long as that lawn is healthy before the application of Crossbow.
Will Crossbow Kill St. Augustine Grass?
Yes, Crossbow will kill St. Augustine grass. St. Augustine has a slightly different structure than most lawn grasses and is highly susceptible to being damaged and killed by Crossbow herbicide.
Will Crossbow Kill Zoysia Grass?
Crossbow has the potential to kill Zoysia grass. In an established Zoysia lawn, during the peak growing season of the year, it should be safe to use Crossbow. However, Crossbow should never be used on a warm-season grass like Zoysia during or in the month following a period of dormancy.
Will Crossbow Herbicide Kill Grass, Weeds, or Trees?
Crossbow will not kill grass. Crossbow will kill "broadleaf" weeds or plants with large leaves. In this case, that means any plant with a stem and leaves as opposed to the blades of grass your lawn has. Trees may also be strongly affected if Crossbow is sprayed directly on them or on any exposed or shallow roots.
One important thing to note is that Crossbow will take out ornamental shrubs, all types of flowers, berry bushes, and most vegetable plants and herbs. Do not use Crossbow on a windy day to avoid drift as a small amount can do significant damage to these types of plants.
How Long Does Crossbow Stay in the Soil
In laboratory tests, Crossbow's primary active ingredient has been shown to have a half-life of 333. This means that after about a year, that active ingredient has decayed by half. This can be reduced to as little as 95 days in highly mineralized soils. The concentration of Crossbow in the soil may reduce more quickly in regions with more rainfall as this active ingredient tends to decay more quickly when exposed to water.
Is Crossbow the Same as Roundup Herbicide?
Crossbow and Roundup are two very common herbicides but they have two completely different sets of ingredients. Roundup is also registered as a "broad spectrum" herbicide, meaning it kills all plant life indiscriminately. Crossbow is a selective herbicide which only kills "woody" and "broadleaf" plants and weeds.
Can Crossbow Be Used On Lawns Safely?
All-in-all, if you're looking at the stronger end of the herbicide spectrum, Crossbow is a relatively safe choice according to all known studies and the EPA. This is true as long as you use it in isolation and follow all package instructions to the letter. It's also important to pay attention to any state restrictions on use that there may be in your area. If you do plan to use Crossbow, it will be most effective if used during the warmest part of the growing season and if applied 1 to 4 days before rain or irrigation.