You might have heard the term vapor lock once or twice and are curious if this is what is preventing your lawn mower from running. Well, if it's hot outside and your lawn mower is working hard, then vapor lock could definitely be the reason your mower stalls. So, let's take a look at what causes vapor lock in small engines and see what you can do to prevent it.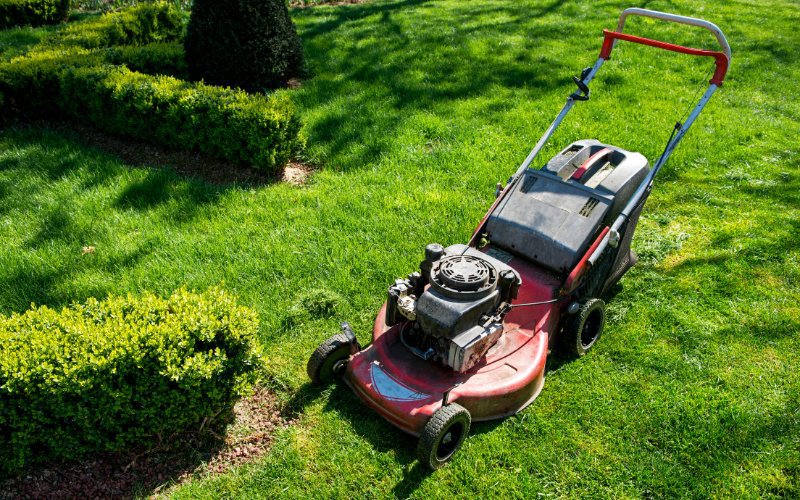 What is Vapor Lock on a Lawn Mower? (The Short Explanation)
Vapor lock happens when gasoline in the lawn mower's fuel system reaches a certain temperature and turns from liquid into gas before reaching the carburetor. The gas creates back pressure in the fuel system, causing a blockage. This back pressure prevents liquid gasoline from traveling through the fuel system, and the lawn mower's engine becomes starved of fuel.
Vapor Lock Symptoms (How to Tell If Your Mower is Affected)
So, how can you determine if vapor lock is the cause of your lawn mower problems? Well, there are several vapor lock symptoms you can watch out for. Here are some telltale small engine vapor lock symptoms you can use when diagnosing your lawn mower.
Spluttering Engine
Stalling Engine
The Engine Will Not Restart
Hard to Pull the Starter Cord
A Bubbling Gas Tank
Air Coming Out of the Gas Tank Vent
A Fuel Filter Full of Vapor
Hot or Boiling Fuel
Spluttering Engine
Vapor lock on a lawn mower is a gradual process that slowly worsens as the gas builds up. As the fuel begins to heat, it creates small bubbles in the fuel system that slowly start to affect the lawn mower's engine. As this happens, the engine will gradually receive less and less fuel, causing the engine to sputter. So, if your lawn mower sounds like it is running out of fuel, then it could actually be a symptom of vapor lock.
Stalling Engine
The next stage after sputtering is engine stalling. When the vapor lock or blockage is too great for new fuel to pass, the engine stalls. So, if your lawn mower is stalling for no apparent reason, then vapor locking could be the issue. Another sign of vapor lock is that your engine sputters and stalls even though you have plenty of fuel in the gas tank. The problem is not because of a lack of fuel in the fuel system but the lack of fuel flow.
The Engine Will Not Restart
Often when your lawn mower has stalled because of vapor lock, it can be very difficult to get your lawn mower engine restarted. This is because the fuel vapors are still inside your lawn mower fuel system. So, if your mower has plenty of gas, a good spark, and oil in the engine, then something else is going on. Potentially, you're dealing with a vapor lock in the fuel system.
Hard to Pull the Starter Cord
When the lawn mower engine stalls because of vapor lock, you might find it hard or impossible to pull the starter cord and turn over the engine. This is because there could be too much pressure inside the cylinder head. If the engine stops when the intake and exhaust valves are both closed, then there is no way for the fuel vapors to escape.
A Bubbling Gas Tank
Once the gasoline turns to vapor in the fuel system, the gases will work their way back toward the gas tank. So you might come across a bubbling sound coming from your lawn mower tank as these gases move through the fuel lines. Keep an ear on your fuel tank and listen for any strange sounds when your lawn mower stalls.
Air Coming Out of the Gas Tank Vent
Look on your lawn mower's gas cap for a small vent. If you can't find it, check for a vent in the gas tank. These vents allow your fuel tank to equalize the pressure to prevent issues such as fuel spills, fuel spurts, and fuel tank collapses/explosions. So, if a vapor lock occurs, this vent will allow pressure to escape safely. If there is a vapor lock in the engine, you'll sometimes hear a hissing sound coming from the vent in the fuel tank. Also, if you remove the gas cap and notice a blowout of gases, the fuel vapor is likely escaping from the gas tank all at once.
A Fuel Filter Full of Vapor
Another pretty common sign is a fuel filter full of vapor. Since the vapor is lighter than the liquid, it will find a high spot and sit above the fuel. Because of the fuel filter's shape, it is difficult for the vapor to get out and become stuck. So, if you are concerned that you have a vapor lock on your lawn mower, check the fuel filter to see if it looks like it has air/vapor inside.
Hot or Boiling Fuel
The fuel in a lawn mower can get extremely hot and up to the point of boiling if the conditions are right. I have experienced boiling fuel on many occasions when working my lawn mower hard on a hot summer's day. As fuel heats up, it begins to evaporate and turns into a gas. Now, if you're mowing on a hot day and the fuel starts to boil at around 95°F, it will evaporate much quicker, certainly a lot quicker than the normal evaporating process. So, the hot/boiling fuel produces vapors and causes a vapor lock.
What to Do If Your Lawn Mower is Vapor Locked
Now you know that vapor lock is caused by fuel vaporizing inside your lawn mower's fuel system due to an increase in the fuel temperature. So, what can you do if your lawn mower is vapor locked, and what can you do to prevent vapor locking? Let's find out.
Be Extremely Careful With Vapor Lock Gases
First of all, be extremely careful of the vapors and how you act around them. The fuel vapors are extremely combustible, and in specific conditions, they are explosive. It's actually the gasoline vapors that ignite and not the liquid gasoline. So, an excessive amount of fuel vapor is extremely dangerous if not handled correctly. Avoid any open flames when handling gasoline vapors.
Allow Your Lawn Mower to Cool Down
Before you even begin to deal with a vapor lock, allow your lawn mower to cool down. This will allow the mower to stop producing heat and cool the gasses down. Once the vapors cool down, they will turn back into a safe liquid. So, by simply leaving your lawn mower to cool down, the vapor lock will disappear, and you should be able to start your lawn mower without any issues. But be patient because this can take a while.
Remove the Gas Cap
One way to allow the fuel in your lawn mower to cool down quicker is to remove the gas cap. This allows the hot vapors to escape and exposes the inside of the fuel tank to the cooler ambient air. Again, if you choose to use this method, remember that the fuel vapors are highly flammable. So, be very careful when using this method.
Protect the Fuel System From Heat
I have come across a few lawn mowers that don't protect the fuel systems from external heat sources. For example, I have seen fuel lines running close to exhaust systems and fuel lines exposed to direct sunlight. This is usually on larger lawn mowers like ride-on mowers, tractor mowers, and zero-turns. So, if you're finding your larger lawn mower is suffering from vapor lock, then you could try to protect the fuel system from getting too hot. I have seen people install heat shields using metal plates to deflect heat from the exhaust and using fuel line shields such as aluminum foil to protect the fuel line from getting too hot. So, any safe way you can find to keep the fuel cool will help prevent small engine vapor lock.
Mow for Shorter Periods
Another easy way to prevent vapor lock on a lawn mower is to mow for shorter periods. By this, I mean try running your lawn mower for short periods. For example, if your lawn takes an hour to cut and vapor lock kicks in after 40 minutes, try mowing your lawn in two 30-minute sections. Breaking up your mowing time into two shorter sections will allow your lawn mower to cool down and hopefully prevent vapor lock from happening.
Mow During Cool Parts of the Day
One thing you'll want to avoid is mowing during the hottest part of the day. Ambient temperature can really increase your lawn mower's operating temperature and heat the fuel even faster. For example, where I live, the morning temperature reaches around 80°F in the summertime, whereas the mid-afternoon temps average around 100°F. This 15°F decrease in temperature can make a big difference and really slow down the process of vapor lock.
Keep Your Lawn Mower Clean
Finally, keeping your lawn mower clean can play a vital role in preventing vapor lock. Your lawn mower engine is likely to overheat if it has to deal with issues like cooling itself because of dirty flywheel fins or clogged radiator fins. If your lawn mower overheats, the excess gets transferred into the fuel system, accelerating the vapor locking process. So, the key to preventing your lawn mower from getting vapor lock is to keep the fuel from heating up, and one way to do this is by making sure your mower is clean.