When it comes to engine oil, once you put it in, you never really want to see it again unless you're refilling it or changing it out.
The exhaust system in particular is separated from where your fuel and oil live so if you happen to notice oil leaking from the exhaust, you have plenty of reasons to be concerned.
That being said, it isn't as difficult as you might think for some engine oil to get displaced. Figuring out how oil got into the exhaust of your lawn mower in the first place is a good way to begin tackling the problem.
Oil Coming Out of Lawn Mower Exhaust
If there is oil coming out of the lawn mower's exhaust it is usually due to oil spillage from the lawn mower being tilted incorrectly, putting in too much oil, carburetor imbalance, a clogged air filter, or damage within the engine.
Most of these issues aren't too challenging to fix, but finding the correct cause can be tricky.
Potential Causes of Oil Coming Out of Your Lawn Mower Exhaust
If you're asking yourself why is oil coming out of my lawn mower exhaust, you need to do two things: look closely at the telltale signs of each of these symptoms, and check that they apply to your type of lawn mower.
Oil Spillage from Incorrectly Tilting the Lawn Mower
There are quite a few things that can go wrong when you tip your lawn mower the wrong way.
One of those things is oil spilling from your engine's crankcase and leaking into the cylinders. From there, the oil will get pushed out through the exhaust valve.
If oil has also leaked onto your air filter this is likely the culprit.
Solution: Be wary of steep slopes, and tilt your mower the right way when servicing it.
The safest way to tilt your mower is to always make sure the carburetor and air filter are facing up to prevent oil and gas from using gravity to escape.
If you accidentally tip your mower over the wrong way, you'll need to check your carburetor (and possibly clean it), check/replace your air filter, and wipe off any excess oil/gas.
Anything leftover that you can't reach will burn off as the engine runs.
Overfilling your Lawn Mower's Oil Crankcase
Putting too much oil in your lawn mower is a surefire way to end up with some leakage.
Showing the same symptoms as tilting your mower incorrectly, oil can make its way through your engine and out your lawn mower's exhaust when there is too much oil in the crankcase.
Solution: Add oil slowly to prevent overfilling, and drain any excess oil if you add too much.
If you've leaked oil from putting too much in your mower, you'll need to measure the oil level with your dipstick, make sure it is correct, and check your carburetor and air filter.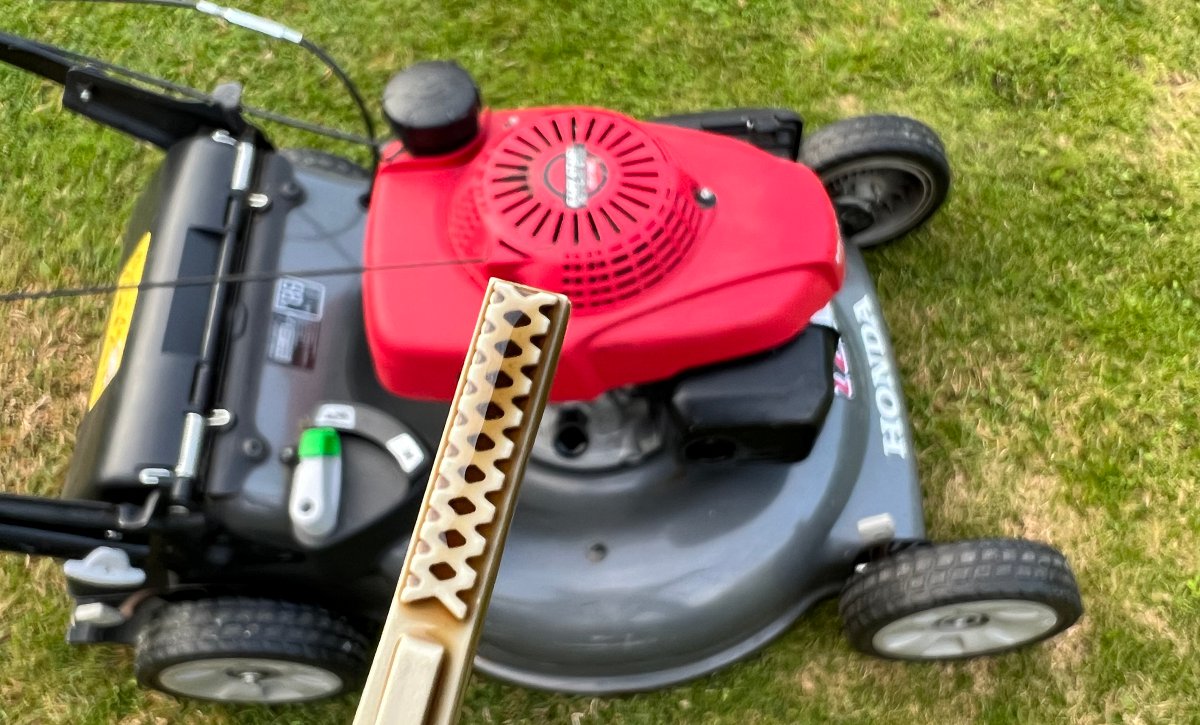 Again, if they are soiled you'll need to clean the carburetor and replace the air filter.
Carburetor Imbalance
If your carburetor is out of balance, the air and fuel mix entering your engine will be flawed and can lead to oil and gas leaking from your exhaust.
Whatever fuel doesn't get burned will be forced out via the exhaust. This leads to increased fuel consumption as the fuel gets wasted if it can't all burn.
If this is the case for you and there is a gas and oil mix leaking from your exhaust, it's a good idea to consider this issue.
Solution: Adjust and clean the carburetor.
Cleaning and adjusting the carburetor will help your mower perform better in general, and once back in balance, you shouldn't have any more leaking due to excess fuel.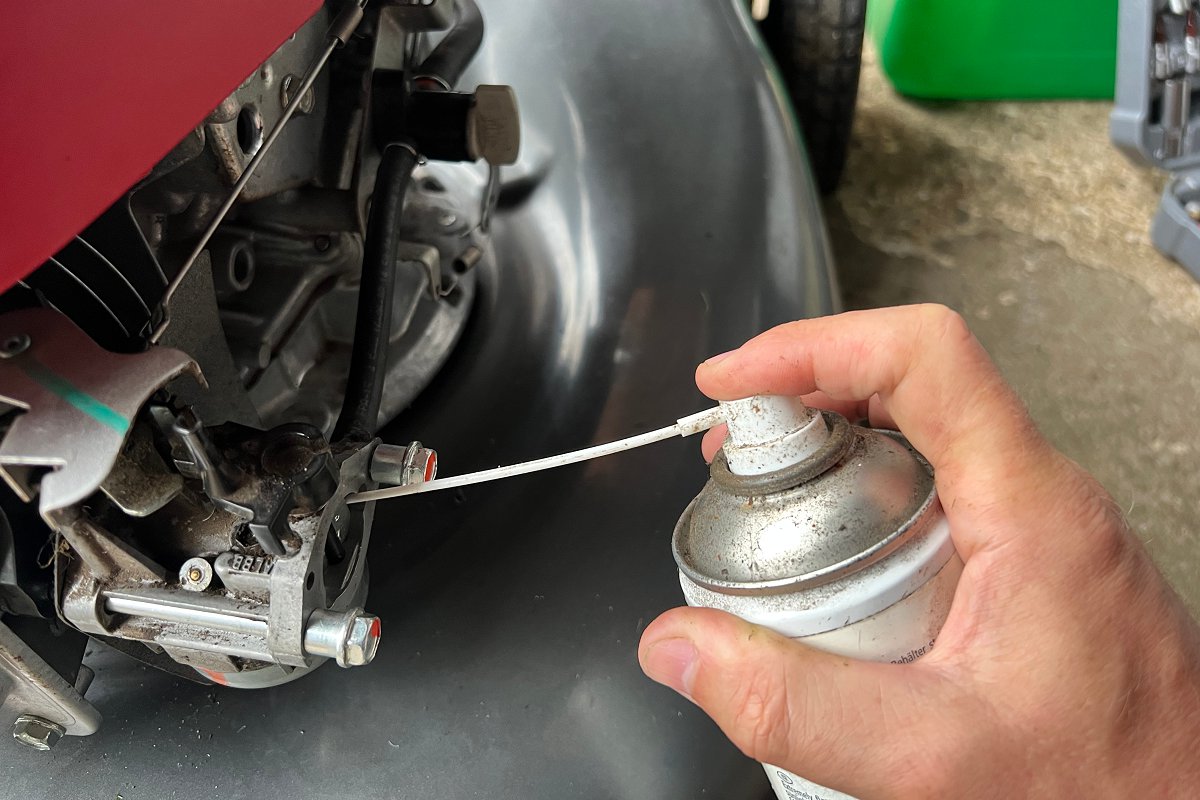 To clean the carburetor you should start by spraying some aerosol carb cleaner into it.
If this doesn't solve the problem you may have to disassemble the carburetor to clean it which is a fairly tricky job.
You may also want to try adjusting the air-to-fuel ratio too. Most lawn mower carbs will have one or two small screws that can be turned to achieve this.
I'd recommend you check the manufacturer's recommended settings in your lawn mower's user manual, if you still have it, or search for the manual online.
Clogged Air Filter
There are a bunch of dirty air filter symptoms, and as you probably guessed, oil and gas leaking from your mower's exhaust is one of them (though usually just in extreme cases).
If you have a super clogged air filter, your engine might not be able to get enough oxygen to burn all the gas it draws in. Just like an imbalanced carburetor, you'll end up wasting fuel and could notice the excess leaking out.
Solution: Replace your air filter.
You'd have to have a pretty nasty filter on your mower to run into this issue, but luckily all you have to do is toss a new filter on.
You might have to replace your filter if you run into some of these other issues anyways.
Engine Damage
While nobody wants this to be the case for their mower, engine damage can certainly be the reason for oil leaking out of your exhaust.
Worn valves, damaged piston rings, blown head gaskets, and cracks in the engine block can all allow oil to leak out.
If you've checked everything else and you also happen to have an older mower, things could be looking a bit more serious.
Solution: Gear up to do some internal engine repairs or seek help from a small engine professional.
If you have a good amount of small engine knowledge and tools at hand, you can certainly start poking around your engine to look for damage or faulty parts.
I'm lucky enough to have a friend who knows a ton and could help me out, but if you can't do it yourself or call in some friendly help, going to a pro is your best bet.
If your lawn mower has a ton of seasons under its belt already, it might be nice to have somebody look it over anyways.
Oil Coming Out of Exhaust on a Four-Stroke Lawn Mower
Four-stroke mowers hold engine oil in their crankcase separately from the gas. More like the style of a car, you add gas and oil separately.
This means that oil isn't the only liquid that can leak from the exhaust. Sometimes unburned gas will leak and it can look deceivingly like oil as it collects carbon and blackens on its way out.
If you have a four-stroke mower, be sure to double-check what the leaking liquid is if you're trying to get to the bottom of the problem.
For instance, if you end up having gas leaking out, you will want to look into the air filter and the carburetor first.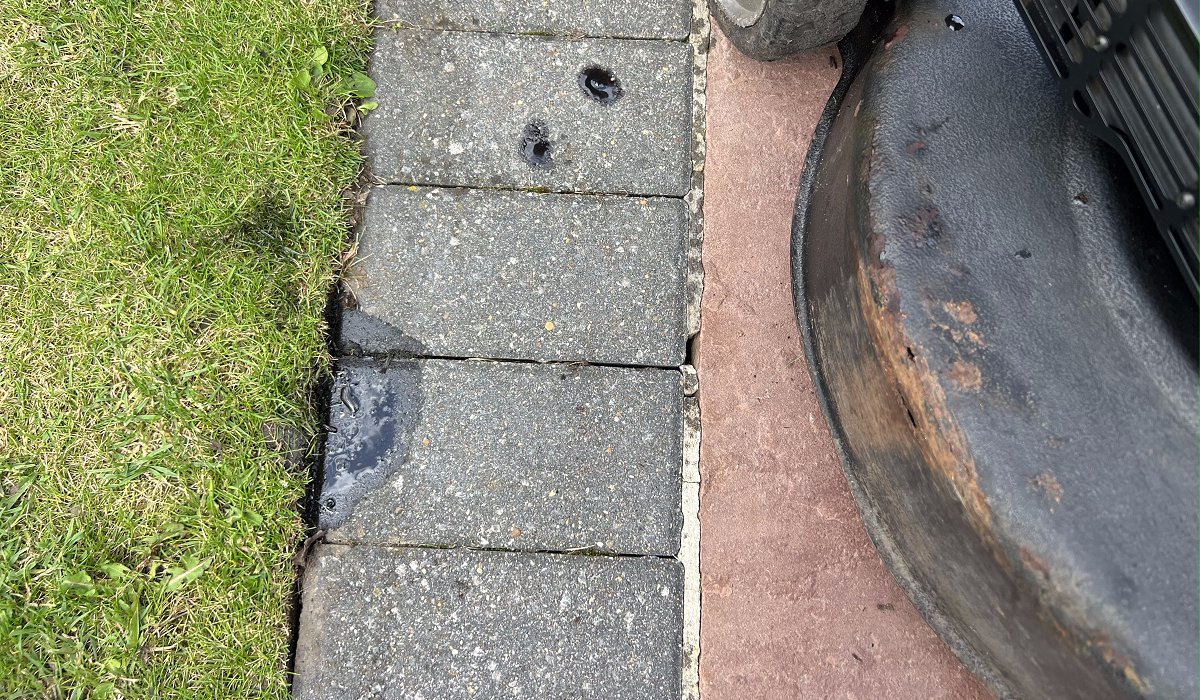 Oil Coming Out of Exhaust on a Two-Stroke Lawn Mower
Two-stroke mowers require engine oil to be mixed into their gasoline for lubrication while operating. As two-stroke motors burn fuel, the oil additive helps lubricate the engine.
Because the oil and gas are stored together, you won't be able to measure your oil level after you fuel up. Unfortunately, this could complicate your process of diagnosing any liquids leaking from the exhaust a little bit.
Even though they use a gas and oil mix, tilting two-stroke mowers the wrong way will cause the same problems.
Oil Coming Out of Exhaust on Riding Lawn Mower
Riding lawn mowers have engines that are a bit more complicated but oil coming from the exhaust can happen for some of the same reasons as push mowers.
Adding too much oil is probably the most common culprit when it comes to riding lawn mowers (partly because you're not as likely to tilt your riding mower on its side).
However, if that isn't the case and you have oil coming out of your riding mower/lawn tractor's exhaust, there is a good chance you're looking at the same internal engine problems as you would with a push mower.
If you aren't equipped to deal with push mower engines, you likely will struggle with your riding mower and are probably looking at a visit to your local mechanic.
The only other thing to take note of is that there is yet another liquid that could leak from a riding mower's exhaust: engine coolant.
This is usually pretty easy to distinguish and it is good to be aware of if you're doing some investigating. Bad gaskets usually cause coolant leaks but so can cracks in the engine block.
Why This Problem Needs to Be Resolved Urgently
If you notice any liquid dripping out of your exhaust you should definitely take action. Having oil or fuel leaking from your lawn mower can result in:
Worsening Problems – If you do have internal engine problems, leaving them unattended will make them worse and lower the chances of repairing the parts. Oil getting around where it isn't supposed to can also have a compounding effect as it will damage other parts like spark plugs and air filters. Plus, leaking oil means your engine doesn't have as much oil as it needs to operate.
Dead Grass – Your lawn will not be very happy if your mower repeatedly drips oil or gas all over it and you could create some yellowed patches by ignoring this problem.
White/Bluish Smoke – I'm no stranger to starting my mower and having white or blue smoke blowing out of the exhaust. Bottom line is that you don't want to breathe it in and it's hazardous to the environment.
Fire Hazard – Anytime you've got flammable liquids dripping onto the floor of your garage or shed, you're asking for trouble. Even if you've got concrete floors it's not good. A lawn mower on fire is a problem nobody needs. Plus, who likes oil stains?!