You may run into a situation where your lawn mower cuts too high, or you might say your lawn mower is not cutting low enough. Whichever way you want to describe it, it comes down to the same issue. The blade isn't coming close enough to your lawn. So, what can you do to fix this problem? Let's find out.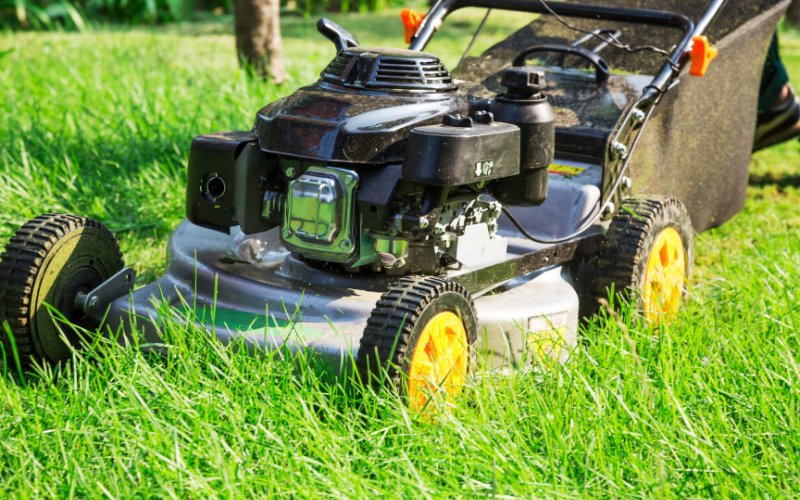 Lawn Mower Not Cutting Low Enough (The Short Explanation)
The only safe and practical way to adjust your lawn mower's cutting height is to use the mower's height adjustment system. Depending on your mower's design, you can use the deck height adjustment lever or adjust the wheel/roller height. These methods ensure that your lawn mower stays within the acceptable safety parameters designed by the lawn mower manufacturers.
Possible Reason Why Your Lawn Mower's Cut Is Too High
There is only one reason why your lawn mower is cutting too high: the adjustment mechanism is set too high. Pretty much all lawn mowers have some way of adjusting the lawn mower height so that the operator can select a desired cut height. Here are a few examples.
A lever to lower and raise the cutting deck.
A lever on the wheels to lower and raise the cutting deck.
An adjustment option on the main roller to adjust the cutting height.
Spacers between the blade spindles and the blade height.
The one thing all these options have in common is that each function works with a specific lawn mower design. So let's take a look at how you can adjust your cutting height if your lawn mower is not cutting low enough.
Cutting Deck Adjustment
If you have a larger lawn mower, like a riding lawn mower or a tractor mower, then you'll find a height adjustment lever or a rotary handle that allows you to lower and raise the cutting deck depending on the desired cut height.
Wheel Height Adjustment
Lawn mowers such as walk-behind mowers commonly use an adjustment lever that allows you to reposition the wheels. So, by raising or lowering the wheel position, you'll adjust the height of the cut. For example, you can set your lawn mower to the lowest cutting position by raising the wheels to their highest position, meaning there is less space between the cutting deck and the lawn.
Roller Adjustment
Reel lawn mowers have adjustments that allow you to reposition the roller or wheels. Usually, this requires you to use a wrench to remove the roller/wheels, select a position, then set the roller/wheels back into position. While this process can be a bit time-consuming, it will allow you to set your lawn mower to its lowest setting.
Spacer Adjustment
Finally, some lawn mowers use a blade spacer to adjust the height of the mower's cut. Mowers such as Flymo and some larger mowers allow you to insert a selection of different thickness spacers between the blade and the blade mount. These spacers lower the blade within the cutting deck, bringing the blade closer/lower to the lawn.
What to Do with a Lawn Mower That Won't Cut Low Enough
If you've set your lawn mower to its lowest possible cutting height and its mower is still not cutting low enough, then unfortunately, your last resort is to buy a new mower. No matter what you try, your lawn mower just isn't designed to be used any lower.
I have owned several lawn mowers over the years, and I've run into this problem a few times. Usually, larger riding lawn mowers have high decks that don't get low enough to get a nice low cut. So, if you are looking for a lower cut, you'll need to check the lawn mower's specifications before purchasing.
What NOT to Do with a Lawn Mower That Won't Cut Low Enough
If you have been researching for ideas to fix your lawn mower not cutting low enough, then you have probably found a few interesting solutions. Let me explain why I don't think any of these ideas are worth trying.
Deflate the Tires
If you deflate the tires on your lawn mower, then yes, you'll get a lower cut, but you'll also run into a few problems. The first issue is that you'll damage the walls of your tires, and you'll be looking for replacements pretty soon.
Also, you'll lose a lot of the cushioning your tires provide for both you and your lawn mower. Finally, because your tires will no longer be able to hold their shape correctly, you'll start to get an uneven cut when you mow, and you'll probably end up scalping your lawn.
Use Smaller Wheels
Smaller wheels will definitely lower your lawn mower and give you a lower cut, but you'll also be lowering the body of your lawn mower. The issue this causes is that your deck will be much lower when you place it into the storing position. There are times I need to lift my deck to cut grass longer. Plus, sometimes I need my deck as high as it will go to get over obstacles, like a tree root in my yard or loading my mower onto a trailer.
So, swapping out my wheels for a smaller version isn't something I would want to try.
Extend the Deck Mounts
Another idea I have come across is to extend the cutting deck mounts to lower the deck. Again, in theory, this would work. But this method doesn't allow for the additional stress/stretch placed on the belt, pulleys, and driveshaft.
After all, if the cutting deck is lower than designed, it is further away from the driveshaft and the pulley system. Even an extra inch can put a belt under more stress than it was designed to handle. So, unfortunately, this is another bad idea.
Using Non-OEM Parts
So, what are non-OEM parts? Well, any part that wasn't made or approved by the manufacturer of your specific lawn mower. For example, I have seen people adapt designs from one lawn mower onto another model. The blade spacing washer is a prime example.
So, just because one lawn mower incorporates a method to lower the blade in a cutting deck using a spacer doesn't mean you should use one on your mower. Sure, if your lawn mower cuts too high, then this method would work.
But you're potentially lowering the blade below the skirt of the cutting deck. If the blade comes off during operation, there would be nothing to prevent the blade from coming out of the deck and causing a potentially deadly injury to either yourself or somebody close by.