At the opposite ends of the season – in early spring and late fall – you'll likely have to start up your mower when it's cold outside. Colder conditions often cause problems for power tools and other outdoor equipment, and lawn mowers are no different. If your lawn mower is hard to start when cold, you're probably wondering if there's anything you can do about it. Am I right or am I right?! I'm going to cover a few things you can try and a number of things you should check if you're having problems.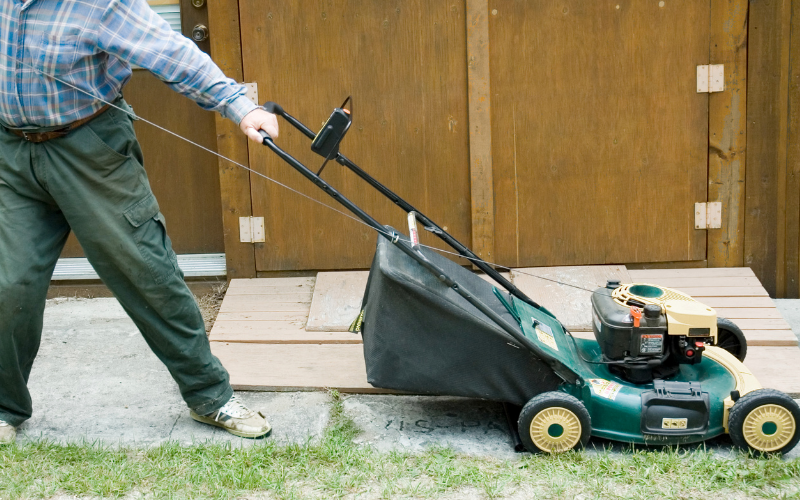 The Main Reason Why Lawn Mowers Can Be Hard to Start When It's Cold
There's one main reason why a lawn mower can be harder to start when the weather is colder – the oil. As the temperatures drop, oil flow is poorer than usual and that makes life tough for your mower's engine.
You see engine oil is very important as it lubricates all of the internal engine components. In the colder periods of the year, it might not do its job quite as well, and that's when you might see that your mower is either harder to start or sputters initially after starting up. After the engine warms up the oil will start flowing better and it'll run smoother.
For this reason, I'd recommend you be really vigilant of your oil level during colder periods of the year and keep it right on the "max" level that is recommended for your mower. This will make it easier for the mower to get the oil flowing than it will if you only have the reservoir half full.
Check Your Oil Level and Quality Before You Try to Start Your Mower
During the colder weather, it's important you get into the habit of checking your oil level before you try to start your mower up. You need to do this while your mower is on a level surface, otherwise the reading you get might not be accurate. Pull out the dipstick, see what level it's at and add some more if necessary. You can even check it twice just to make sure.
Another thing to be vigilant of when you're doing this is whether your oil looks dirty. Dirty engine oil is going to affect your mower just the same as too little oil; it's going to be harder to start. If you notice the oil is dirty, remove it and add some fresh oil.
The Type of Oil You Use Matters: Some Function Better in Colder Weather
There are lots of different types of oil that can be used in a lawn mower, and some work better in colder temperatures. Using a 5W-30 or 10W-30 oil if your mower manufacturer states it's safe to do so (check the user manual before you go ahead and buy some), will likely improve things if your lawn mower is hard to start when cold.
These oils remain thin even in lower temperatures, which means they'll flow into the engine right away when you start it up, thus ensuring the engine runs smoothly.
Other Things to Check If Your Mower is Hard to Start in Cold Weather
If you have your oil topped up and you're still finding your lawn mower hard to start when cold, there are a few other things you can check.
Has Your Gas Gone Stale?
This will be more applicable in early spring than it will in late fall. If you've just started using your mower again after the winter break and forgot to winterize your mower, it's possible that the gas you have in your tank has gone stale. Gas starts breaking down in as little as 30 days and this process can coat the inside of your tank and the carb in a gummy substance. When you try to start your mower up with this still inside, it could get into the engine.
You'll need to drain the gas and give the tank a thorough cleaning. You could also try adding some fuel stabilizer and see if that will allow you to get it started.
Is the Spark Plug Dirty or Damaged?
The spark plug is super important, but I think a lot of folks don't realize that it needs to be maintained just like other parts of your mower. At least once per year you should remove it, check it and clean/replace it if necessary. It's possible you could have flooded the engine at some point (here's how to start a flooded lawn mower by the way) or that the spark plug just needs replacing as you've been using the same one for so long.
If it looks black and there's a build-up of carbon, take a wire brush and give it a thorough cleaning. If that doesn't work or it's obvious that it's broken when you inspect it, you need to buy a new one and install it. If this was the problem, your mower will be up and running again in no time!
Check the Fuel Line + Filter
If your fuel lines are clogged (quite likely if the gas in your tank went stale), your mower is going to have a hard time starting no matter what time of year it is.
Check both your fuel line and the fuel filter to make sure this isn't the case and sufficient fuel is able to flow into the carb. If it's been a while since you last did this (or maybe you've never done it?), you might want to replace these parts to be on the safe side. It's very cheap to do so and your mower will thank you!
Is the Air Filter Clogged?
One other part of your mower that can make starting it difficult (although not just when it's cold) is the air filter. Your gas mower needs enough air to burn the fuel and a clogged filter can prevent that.
So remove it and check that it's clean enough. Replace it if necessary.
Summary: A Process of Elimination
I think you'll most likely find that the reason your lawn mower is hard to start when cold has something to do with the engine oil. Either that there's not enough, it's contaminated or that it's not suitable for use in cold temperatures as it becomes thicker and doesn't flow to the engine as easily.
But honestly, it's just a process of elimination. Do those checks on the oil first, and if that doesn't improve things, check the gas and the gas tank, the spark plug, the fuel line and filter, as well as the air filter.
You should see some improvement if you're willing to invest a bit of time.