Just hearing the phrase "cracked engine block" makes me nervous. It's one of those situations that could mean the end of your engine and your lawn mower. But before you start looking through the mower catalogs, let's look to see if your engine block is actually cracked or if it's something else. A lawn mower can have other issues presenting symptoms like a cracked lawn mower engine block. So, let's dive in and see what's up with your mower.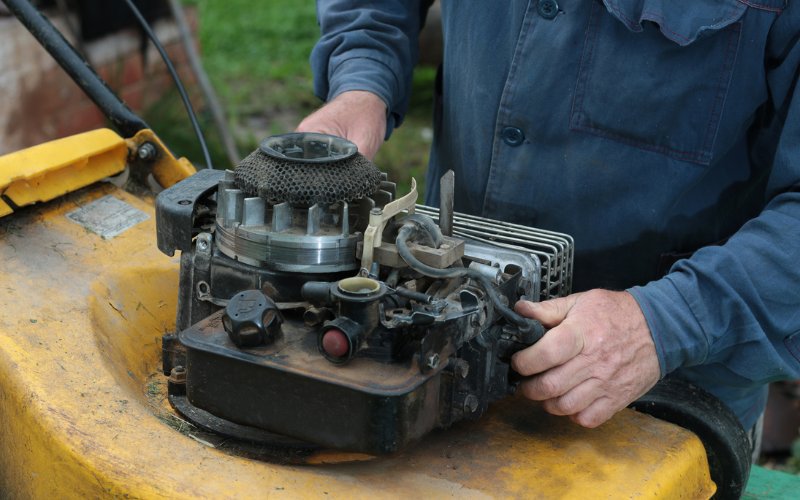 Common Signs that Indicate a Cracked Engine Block? (The Short Answer)
An engine block can crack in several different places. Therefore, you'll experience different symptoms depending on where the crack is located. Here are some of the things to look out for.
Oil & Coolant Mixed Together
Oil in the Cylinder Head
Oil Leaking from the Engine
Quick Loss of Oil
Quick Loss of Coolant
Smoke in the Oil
Bubbles in the Coolant
Oily Exhaust
Moisture Coming from the Exhaust
Loss of Power
Overheating
Low Compression
Seeing a Crack
How to Tell Whether Your Lawn Mower Has a Cracked Engine Block
This list has the same symptoms as a blown head gasket on your lawn mower. So you have to be extra careful when interpreting your findings. Luckily, there is one unmistakable symptom, and I'm pretty sure you already know which one it is. So, let's go over each symptom and what to look for.
Oil & Coolant Mixed Together
If you have a water-cooled lawn mower engine like one of the John Deere tractor mowers with a Kawasaki engine, then water runs through various parts of the engine. To inspect these types of engines, you can remove the coolant filler cap and see if there's any oil.
Also, you can remove the oil filter and see if there's any coolant. If you find either substance where it's not supposed to be, then it is a clear sign that the engine has a potential crack, allowing both the oil and coolant to travel to the wrong location.
Oil in the Cylinder Head
If there is a crack somewhere between the engine block and the cylinder head, then you end up having oi in the cylinder head. One way to check for this is by removing the spark plug and checking for oil either on the end of the spark plug or inside the head.
Oil Leaking from the Engine
Looking around your lawn mower, you might find a collection of oil, like an oil puddle on the deck. As long as you haven't spilled any oil and the head gasket isn't blown, then it could be coming from a crack somewhere.
Quick Loss of Oil
I make a point of checking my oil every time I jump on my lawn mower. So, if my oil is dropping fast, then I know something isn't right. In this scenario, the first thing I do is check that my mower isn't leaking at the drain plug on the sump and that nothing is leaking out of the head gasket.
Next, I start to question if I have a lawn mower engine with a cracked block. So, is your oil disappearing quickly? Remember, the oil doesn't have to leak out of the engine. Instead, it could be working its way into the cylinder head or the water cooling system. Alternatively, it could be a bad head gasket.
Quick Loss of Coolant
Now, I don't check my coolant level that much because I have a temp gauge on my lawn mower dash. But if I see the needle rising, I will definitely check out what is going on. If the coolant level is low, I will check the water hose, the radiator, and around the head gasket.
If these are ok, I will look at the oil and coolant filler cap. If I find both fluids mixed together, I will start looking at the block for potential issues. Unfortunately, this can also be down to a blown head gasket.
Smoke in the Oil
One good way to tell if an engine block has cracked on the inside is to look inside the oil filler cap. If there is a break between the engine's top and bottom, then exhaust fumes from the fuel combustion are usually forced into the bottom of the engine, where the oil is stored. Therefore smokey oil could mean a cracked block.
Bubbles in the Coolant
Bubbles in the coolant are the same thing as smoke in oil. If there is a crack in the block, then as the engine expels the exhaust fumes, they are forced through the crack into the cooling system. To check for this, run the engine, look in the coolant filler cap, and check for bubbles. Do not try this with a hot engine.
Oily Exhaust
A lawn mower engine with a cracked block can have oil working its way into the cylinder head. When the lawn mower is running, not only will it burn off the fuel, but it will also burn off the oil. So, a cracked lawn mower engine block might cause smokey exhaust fumes.
Moisture Coming from the Muffler
If the crack is in the right place, oil and coolant can get into the cylinder head. When this happens, the lawn mower will steam a bit out of the muffler, or it will just spit out the coolant. Well, that's if you can even get your lawn mower to run.
Now, if you use some type of chemical coolant, say, anti-freeze, then you'll also notice a strange smell as the coolant is heated up. So, burning coolant could be a sign of a cracked block, but a blown gasket could also cause it.
Loss of Engine Power
If the crack allows the pressure from the power stroke to escape, you'll definitely feel a loss of power in your lawn mower's engine. This is because as the fuel ignites, it forces the piston down to power the engine. So, if the pressure can escape through a crack in the block rather than push against the piston, you will notice a distinct loss of power.
Overheating
A combination of the different symptoms of a cracked block leads to overheating. For example, loss of oil, loss of coolant, contaminated fuel, and the loss of force to drive the piston will all result in overheating. On top of this, your lawn mower engine will have to work a lot harder which will also cause your lawn mower to overheat.
Low Compression
If air escapes from the cylinder head through a crack in the block, then your engine won't be able to achieve compression. This means that the air and fuel mixture will not be compressed and won't ignite when entering the cylinder. As a result, your engine won't start, it will run poorly, or it will stall.
To check the compression pressure, you can attach a compression gauge to the spark plug hole and turn over the engine. If the pressure is not above 80 PSI or somewhere close, then it could mean the block is cracked or a blown head gasket.
Seeing a Crack
By this stage, you are probably asking, how do you tell the difference between a blown head gasket and a cracked block? Well, the easiest way is to find the crack on the engine block. So, check the engine and look for obvious cracks and leaking fluids. Also, if your engine runs, you might see exhaust fuels flow from somewhere other than the muffler.
Now, if you have an internal crack, you'll have to strip down the engine. This means you will need to remove the head and the block until you get to the crankcase. If there is a crack, you'll find it pretty quickly.
What Are Your Options if Your Lawn Mower Has a Cracked Engine Block?
Now we can look at how to fix a cracked lawn mower engine block. But first, can you? Technically, yes. In a lot of cases, an engine block can be repaired. However, I'm yet to see a fix that actually lasts for a very long time, and I haven't seen any repairs that look particularly good.
If you happen to have a welder or a tap and die set and some JB Weld, then you could temporarily fix a cracked engine block. But for the average lawn mower owner, this isn't a realistic option. So what do you do? Head down to the lawn mower repair shop? Well, you could, but I'm pretty sure they will either offer you a new engine or a new lawn mower.
This is because the cost of the repair will more than likely exceed the cost of a new engine or a new lawn mower. But you never know. It might be worth asking first.
So, if you are certain that your lawn mower has a cracked engine block, then find out how much a replacement engine would cost plus labor. Then compare that cost to the cost of replacing your lawn mower. I think it would be worth it to replace the engine on an expensive ride-on lawn mower, while it would be cheaper to replace a push mower.
But again, double-check how much a lawn mower shop would charge to try to fix your engine and if they even can. If they can't, here's some useful information on how to dispose of a lawn mower properly. I've detailed a few different options you have in that guide.