Whether you love or hate mowing the lawn, there's one aspect of using a lawn mower that no one is too keen on – noise. You don't want to ruin your hearing and you don't want to p*** off the neighbors. But just want what can you do with a lawn mower that's louder than you're comfortable with? How do you make a lawn mower quieter?
Some of the best ways to make a lawn mower quieter include meticulously keeping up with routine maintenance, replacing the muffler, and soundproofing the cutting deck. If none of these solutions work, your best option might actually be to get rid of your current mower, and buy a new one.
How to Make a Lawn Mower Quieter: Your Best Options
I'll warn you now that there are no one-size-fits-all kinds of solutions to this problem. It really depends on how bad the issue is, i.e. what type of mower you're using. If you take 2 stroke vs 4 stroke lawn mowers, for example, a 2 stroke mower will always be much louder. It's just how they're built.
However, there are definitely a few things you can try.
Give Your Mower a Full Service
Lawn mowers, particularly gas lawn mowers, need to be maintained meticulously. Not keeping an eye on the condition of key components can have a big impact on performance, including making the mower run louder. You may even see more serious issues if you overlook maintenance, such as your lawn mower loses power when cutting or won't start altogether.
When key components are not kept clean and in good condition, the engine or motor on your mower is forced to work harder and harder to achieve the same results, and this is one possible cause of a lawn mower that is running louder. Inspecting, cleaning, and, if necessary, replacing these components is one way in which you can make a lawn mower quieter.
Here's a short checklist:
Specific to Gas Lawn Mower:
Check the air filter – clean it and replace it if overly dirty.
Look in the gas tank – is it corroded? Water in a gas lawn mower is bad. Remove the gas, clean the tank and refill with fresh gas if necessary.
Is the oil level correct? Insufficient lubrication can cause more friction between engine components, leading to more noise.
Is the spark plug clean/in good condition? Clean it if not, and fit a new one if necessary.
General Checks to Do:
Have a look at the blade- is it sharp enough? Sharpen it if necessary.
A loose lawn mower blade can cause a lot of noise – check yours is securely attached.
Is the underside of the mower free from clippings? If necessary, give it a good clean.
Taking care of these simple maintenance tasks will not only mean your motor/engine is not forced to work overtime, it'll also ensure that nothing is rattling around and causing unnecessary noise. As a secondary benefit, it'll also protect the long-term health of your mower.
Clean or Replace Muffler
If you have a gas lawn mower, the muffler is one part of your mower that is directly involved in reducing noise output. Among other things, the muffler is designed to filter out noise created by the combustion process that would otherwise escape from the exhaust pipe. (They are also involved in helping to maintain engine pressure, and preventing exhaust sparks.)
But over time, like any part of a lawn mower, a muffler may become damaged and no longer be able to filter out this noise. This is fairly common if you've had your mower for several years. It's also possible that the gasket seal that lies between the muffler and the exhaust could become worn and let sound through.
To tell whether this is the case, detach the muffler (make sure your mower is cold first), and then give it a little shake. If the muffler is in good condition, you shouldn't hear anything. However, if you hear anything rattling around inside, this is not a good sign. You can also inspect the outer part of the muffler for any damage: holes, signs of rust/corrosion, cracks or fractures.
If you see any of these things, the solution is simple. Buy and fit a new muffler. Once done, engine noise will be filtered out more effectively and you should notice that your mower runs quieter. Do a bit of research on mufflers before you buy too, as you might be able to buy one that does a much better job than your current one.
Soundproofing Your Deck
I've never had a huge issue with noise with any of the mowers that I've owned. They've all produced a reasonably tolerable amount of noise, and I've always had the habit of wearing ear protectors when I mow (something I picked up from my Grandad on the farm) too.
Most of the time when you walk by a super loud lawn mower, it's the engine making most of the noise (which is why you don't want the engine to be straining + creating more noise). But the blade/deck does make quite a bit of noise sometimes too, mainly when little stones or debris hits them, and you hear these "pinging" sounds.
I've heard people say that you can "soundproof" your deck by installing a special type of material. I have to say, I've never done this and I would have reservations about doing so, as the airflow created in the mower deck is vital to effective cutting, and I'd worry that installing some sort of additional layer of material onto the underside of the deck would affect that airflow negatively. So make sure you do some of your own research into this if you decide to try it. But it is an option if you're looking into how to make a lawn mower quieter.
Other Options If You Want a Quieter Lawn Mowing Experience
You should start by trying the suggestions I've already outlined, as they are all relatively simple modifications you can make to your existing mower, and can be done for a low cost in most cases.
However, if you try those and still feel your lawn mower is too loud, you're not left with too many options in pursuit of a quieter mowing experience.
Buy a New Lawn Mower (Consider an Electric Mower)
I know this seems like a total cop-out. But sometimes there's no other answer to the question of "how to make a lawn mower quieter?" Some mowers, like an old gas mower with a 2 stroke engine, is always going to run loud. I've often been shocked to hear the difference between a 2 stroke vs 4 stroke lawn mower. It can be very significant! Your only solution in that situation is going to be to get rid of it and buy a new one.
And I'd urge you to strongly consider replacing a gas mower with an electric mower if you're determined to make mowing a quieter experience. If you have the budget, a good-quality battery-powered mower would be even better. The difference in terms of noise will be immediately noticeable to you. It's like comparing night and day.
Ear Protectors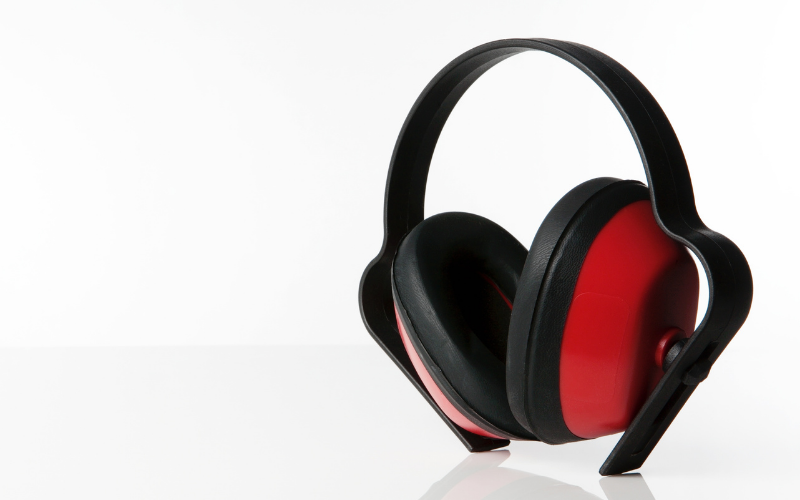 Again, this suggestion is not a direct way of making a lawn mower quieter, but it can help to make your lawn mowing a lot more pleasant. I mentioned this earlier, but I've always personally worn ear protectors, as my grandfather had me wear them back when I worked on his farm during the summer months when I was a teenager. And it just kind of stuck with me, even if the mower I'm using now produces nothing like the noise that the machinery we used back then did.
So while this tip won't technically make your lawn mower quieter, it can help to make your lawn mowing experience far more pleasant (and safer for your hearing) if the noise your mower is producing is bothering you. Look for a decent pair and wear them from start to finish every time you mow the lawn.
How to Make Your Lawn Mower Quieter: A Quick Recap
I think there's probably a 99% chance that if you're reading this article, you've got a gas mower. I've rarely heard anyone complain about the noise an electric or battery-powered mower makes (complaints about those types of mowers usually relate to them being underpowered).
Here's what my plan of action would be if that's the case, in this order:
Fully service the mower (including air filter change, cleaning fuel tank, fuel lines, fuel filter, adding oil if necessary, sharpening blade, cleaning cutting deck, and fastening up anything that's loose).
Replace the muffler and if a better, more efficient muffler is available for your mower, upgrade.
If you do all that and your mower is still too loud, I'd sell your current mower and get an electric or battery-powered one. At the very least, replace it with a gas mower that has a better reputation for being quiet (changing from a 2 stroke engine to a 4 stroke engine for example can make a BIG difference).
If you're not willing or able to sell your mower and replace it, I'd source a good quality set of ear defenders.
Follow these steps and you'll likely reduce the amount of noise your lawn mower makes, and in the event that you don't manage that, you'll at least improve your own experience from a user perspective.