It's a question that we get asked all the time. And it's not a stupid one either. It's also not a question that comes with a straightforward, universal answer and really depends on a wide variety of factors, most notably local climate conditions and the type of grass. That's not to say we're not going to try to answer it. We're just saying we wish there were a one-size-fits-all kind of answer to the "how often should I cut my grass" question.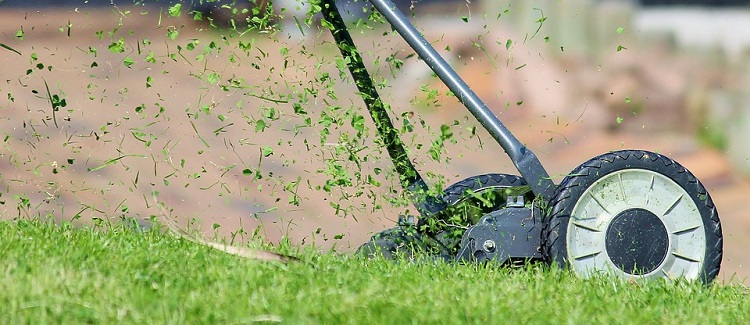 Factors that Affect the Rate of Grass Growth
First of all, let's take a look at some of the main factors that influence the speed at which your lawn grows, as ultimately this is going to have a big impact upon how often you're going to need to cut it.
Time of Year – The time of year is one of the most obvious factors that affects grass growth, with grass requiring a temperature of at least 43 °F in order to grow at all, and as colder months come to an end and the warmer weather rolls around, the rate at which you see your grass grow will get quicker and quicker.
Type of Grass – This is related to the first point, since warm-season grasses will shoot up once you get to the hottest period of the year in the summer, while cool-season grass types experience their quickest rates of growth in the cooler months of spring and fall.
How Much Water? – There's a general rule that the more water your lawn receives, the quicker you'll see it grow. So if you live in a particularly wet area of the country or overwater your lawn (not a good idea!), you'll find yourself walking behind a lawn mower more often to compensate.
How Often You Fertilize – Not everyone fertilizes their lawn, and your lawn may well grow well without a fertilizer, taking the necessary macro- and micro-nutrients from the air that surrounds it and the water it absorbs, but it's highly likely to do even better if it's able to access more of these nutrients via a supplementary source, i.e. a lawn fertilizer. And generally speaking, the more of this that you apply, the faster your lawn will grow.
Breaking Out the Lawn Mower for the First Time After Winter
It may seem like we're taking the long route to providing the answer to "how often should I cut my lawn?" but we did say it wasn't entirely straightforward, right? And the first cut after winter is another part of why it isn't as simple as just saying "cut it every two weeks mate and you'll be golden." Here's why:
Length After Winter – If you're like most people (I apologize here if you're a dedicated yard trooper!), you probably slacked off your yard care duties as the temperatures dropped in the fall, and as a consequence by the time spring rolls around and you feel it's getting warm enough to dust off the lawn mower, your lawn is probably quite a bit longer than what is deemed the ideal length for your specific grass variety.
Bring It Down Gradually NOT Suddenly – One of the biggest errors people make after winter, is pulling the mower out and scything down the long, overgrown grass right to the length they want for their lawn, all in one go. The reason this is a big mistake is because removing so much of each grass blade can send the root system into shock. It also exposes the lower part of the grass blade to direct sun, which it doesn't have any resistance to because it was always well shaded right until the moment you gave it front row seats to the sun's glare.
The One-Third Rule – If you look for lawn care tips online, one of the most mentioned will be the one-third rule. What this means is that you should never remove more than a third of the length of the grass in any one mowing session, otherwise the consequences will likely be as we just described above. So you see, after winter you will likely need to mow more frequently (multiple sessions a few days apart) in order to reduce the height of the grass gradually down to the "ideal." Once you get to this point, it's just a question of maintenance.
General Guidelines for Lawn Maintenance After the First Cut
We can't stress enough that this depends on your exact grass type, how established your lawn is and all of the other factors we've mentioned; your situation may vary from what we're about to say. However, these serve as rough guidelines that should work for most.
Cool Season Grasses – As you may be aware, cool season grasses experience their fastest growth rates in the spring and fall, and during these periods you'll likely need to pull out your lawn mower every 5-7 days to keep on top of maintenance. In the summer, the rate of growth will tail off, particularly if it is dry and mowing will probably only be needed every 2-4 weeks. You should also let cold season grass grow slightly longer in the summer to protect it (it won't recover as well during this period), so bump the height adjuster up on your mower a few notches.
Warm Season Grasses – For warm season varieties, it's the opposite. The temperatures in early spring and mid-late fall won't typically allow for too much growth, so after the first cut mowing won't likely be required any more frequently than every 2-4 weeks. And then as it starts to get warmer and warmer, you may need to trim it down every 5-7 days.
Having said this, don't mow for the hell of it. Keep an eye on how much your lawn is growing, and if it needs cutting, cut it. The principle of little and often is the best practice when it comes to fostering a healthy lawn you can be proud of.
Conclusion
When it all comes down to it, after spring arrives and you gradually bring down the length of your lawn to the ideal length for its specific variety, a good rule of thumb to follow is to mow your lawn every time it reaches about a third longer than that length.