Modern lawn mowers have an oil chamber that has to be kept full of oil. There are a lot of kinds of oil now, so how do you pick one? The wrong kind of oil may not protect your engine. You may ask, "Can you use synthetic oil in a lawn mower?" Read on for some help.
Can You Use Synthetic Oil in a Lawn Mower?
Yes, you can use synthetic oil in your lawn mower. It generally lasts longer than mineral oil, so you do not have to change it as often. However, that doesn't narrow the oil field much.
What Is Synthetic Oil?
Synthetic oil is made of petroleum products, generally crude oil, that are turned into artificially manufactured chemicals. Additives and the synthesis process is considered a trade secret by the manufacturer of each brand of oil.
A Short History
Synthetic oil was developed in 1929, according to Car and Driver magazine. The Nazis used synthetic oil because they could not obtain much mineral oil during WWII. Today, some engines, notably aircraft, have to use synthetic oil. Synthetic oil is used to improve the fuel consumption of cars and trucks. It helps all engines run better, including mowers.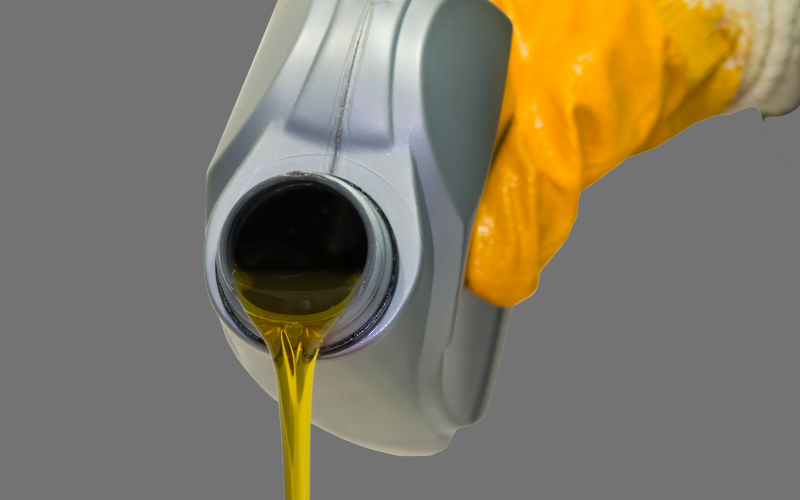 Characteristics of Synthetic Oil
Synthetic oil is engineered to work in a specific type of environment without additional additives. For example, 5W-30 is an oil that is thick at cold temperatures and thin at hot ones. To make it act similar for all temperatures, additives are added that thin the oil at cold temperatures and thicken it at hot temperatures. While new, 5W-30 oil distilled from crude oil acts this way. However, the additives wear out as they get dirty, hot, and old. When this happens, the crude oil goes back to being thick at cold temperatures and thin at hot temperatures. Synthetic 5W-30 doesn't have this problem. It only has to be changed when it becomes dirty.
How Is Synthetic Oil Different From Mineral Oil?
Synthetic oil has several advantages over mineral oil. According to Consumer Reports, synthetics:
Resist oil breakdown, which means you do not have to change it as often.
Withstands higher temperatures, important in four-stroke engines.
Flows better at cold temperatures.
Contain the precise molecules the engine needs for a specific application.
Less likely to acidify and oxidize.
Combats sludge and deposit buildup.
Offers greater engine wear protection.
Keeps your engine cleaner.
Keeps turbochargers working better and protects them more.
Protects the engine from strain during heavy hauling and temperature extremes.
How Often Do I Change Synthetic Oil in My Mower?
In cars, your oil changes are based on how many miles you have driven. In mowers, changes are based on how many hours of operation have passed. New push mowers should have their oil changed after five hours of operation. This is because mold marks and other bits of metal break off after a few hours of use and contaminate the oil. After that, push mowers should have their oil changed after every 50 hours of operation or in the spring before you mow for the first time. Riding mowers need their oil changed after every 50 hours of use, or in the spring before the first use; whichever is more often. If you are mowing a very dusty place, you will have to change the oil more often. In that case, check the oil often and change it when it gets dirty.
Picking A Synthetic Oil
Generally, you use the same weight of oil with synthetics as you do with mineral oil. Check the owner's manual for the weight of oil to purchase for your mower. That said, there are several classifications of oil. The most commonly used classification scheme was developed by the Society of Automotive Engineers (SAE). This group developed the initial standards for automobiles in the United States. During World War II, these standards spread around the world.
The number is a measure of viscosity, or the ability to flow. Molasses has a much higher viscosity than water, for example. So, the higher the number, the thicker the oil. This thickness is measured at around 100 degrees Celsius, or 210 degrees Fahrenheit. That is the approximate temperature inside a running engine.
Except when it isn't running. The W in the oil label tells how thick the oil is before the engine is started. The W stands for winter. In the cold, when the engine starts, it is unlubricated until the oil warms and starts flowing. The longer the time that takes, the longer the engine wears at a high rate. Too long, and it burns up.
So a 10W-40, which is a popular grade of oil, runs like an SAE 10 oil when cold, and like an SAE 40 oil when hot. If you just chose a SAE10 oil, that would leave the oil too thin to protect the engine when it was hot. That, also, wears the engine out too fast.
Final Thoughts
In conclusion, yes, you can use a synthetic oil in your mower engine. Look in the owner's manual and buy the synthetic version of the oil the manufacture recommends. You will not have to change the oil as often and the oil will take better care of your engine.