Bermudagrass and fescue, tall or fine, are two grass types that have little in common. One is a warm-season turf type and the other is a cool-season turf type. One needs to be left long, the other thrives when cut short, one loves the sun and the other adores shade, and on and on. With so little in common, is it possible for these two grass types to coexist when you mix Bermudagrass and fescue?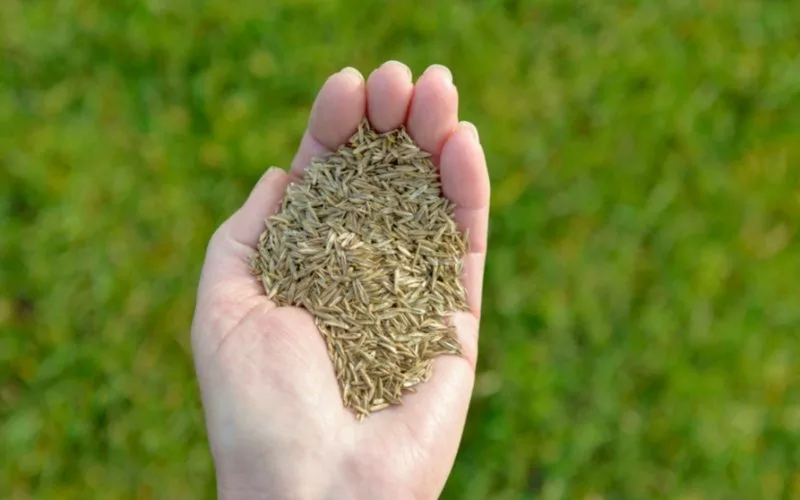 Can I Mix Bermuda and Fescue Grass Seeds? (The Short Answer)
You can mix Bermuda and fescue grass types if you live in a transition zone, have lots of sun separated from lots of shade, and don't mind your lawn becoming either all tall fescue or all Bermuda after a few years. Personally, this is not a combination I would recommend. Several alternatives are listed at the end of the article.
Mixing Bermudagrass and Tall Fescue: When It Works and When It Doesn't
Bermudagrass and tall fescue aren't a bad combination if you look at your entire lawn as a whole and are willing to work to get everything to fall into place. However, if you think that this is some magic combination that will give you a green lawn year-round, you may want to look at other grass seed mixes. Below are several situations in which mixing Bermuda and fescue will or won't work, followed by some alternative grass seed mixes at the end of the article.
Bermuda/Fescue Combination Works When: Your Lawn Is In a Transition Zone
Bermudagrass is a warm-season grass and fescue, tall or fine, is a cool-season grass. Fescue will wither in the southernmost parts of the country. If, however, you live in the transition zone, roughly USDA zones 6b to 8a, you can get these two grass types to coexist.
Bermuda/Fescue Combination Works When: Your Lawn Has Stark Contrast Between Sun and Shade
Mixing Bermuda and fescue grass types works best when you give each its own zone rather than mixing them in all areas. For this to work, you need large patches of sun and shade and then seed each area heavily with the right type of seed. For sunny patches, you use Bermudagrass. For shady zones, you choose tall fescue or any other type of fescue.
Bermuda/Fescue Combination Works When: You're Willing To Micro-Manage Your Lawn
I generally don't recommend that people mix grass types to try and get an extra few weeks of green out of their lawns. It's a lot of work and expense and you still end up with only 2 truly good years out of every 6, even with the best management.
Bermuda/Fescue Combination Does Not Work When: You Mow Your Lawn Low
While Bermudagrass does tolerate being mowed low to the ground and even does best when it is, tall fescue is meant to be tall. 2" is an ideal height for Bermudagrass while 3" to even as high as 4" is preferable for tall fescue. Mowing these two kinds of grass down to a height of 2" will, over time, allow the Bermuda turf to overtake the fescue.
Bermuda/Fescue Combination Does Not Work When: You Want an Even-Looking Lawn
While some lawn companies or other online sources may advocate for overseeding a perennial grass type during the winter of a warm-season growing zone, I wouldn't recommend it.
While overseeding with an annual grass type can lead to a green lawn for a season with few ill effects, a perennial grass type can sometimes compete with your existing, established grass type. This leads to a lawn that looks patchy and thin in all seasons.
Will Bermuda Choke Out Fescue or Vice Versa?
Can you mix Bermuda and fescue or will one win out and eliminate the other? In the sun, established Bermudagrass will out-compete any inter-planted or overseeded fescue. Depending on how much sun you have, this could mean that the tall fescue seeds never establish themselves and die out shortly after sprouting or they could work out alright the first year and only come back up in small, sparse patches in their second season.
In the shade, however, tall fescue has the advantage and can happily coexist with the less-dense Bermudagrass that tends to grow in these types of locations. Bermuda in the sunny spots and a mix of Bermuda grass seed and Tall Fescue grass seed in deep shade is the only situation in which I wholly recommend this combination.
Alternatives to a Bermuda/Fescue Grass Seed Mix or Mixed Lawn
There are several different grass seed mixes you can try instead of bermudagrass and tall fescue if you still want multiple grass types. The best mix for your lawn will depend on your location, soil type, and other environmental factors. Here are a few popular grass seed mixes to consider and when they would be appropriate.
Fine Fescue Mix
Fine fescues are cool-season grasses that can tolerate many types of sun and shade combinations, though they do best with at least dappled shade. This mix will typically include creeping red fescue, chewing fescue, and hard fescue. All three varieties co-exist well without out-competing each other.
Kentucky Bluegrass and Perennial Ryegrass Mix
Kentucky bluegrass is a cool-season grass that forms a dense, fine turf. Perennial ryegrass is a fast-growing, cool-season grass that germinates quickly and provides good ground cover. This mix is best suited for areas with moderate to high sun exposure. Perennial ryegrass is typically seeded over dormant Kentucky bluegrass.
Zoysia and Buffalo Grass Mix
Zoysia is a warm-season grass that is drought-tolerant and forms a dense turf. Buffalo grass is also a warm-season grass that is highly tolerant of heat and drought. Though these grasses may compete in the long term, they can help fill out a sunny lawn more quickly and with longer-lasting results than either type alone.
This mix is also best suited for an area with low water availability as both of these grass types will stay green even when watering sessions are few and far between.
Native Grass Mix
Native grasses are well-suited to the local climates that they are native to. This means they require less water and fertilization than traditional turf grasses. However, they are often kept longer than these same turf grasses. While this may mean you have to mow less often, it will also result in a lawn with a softer texture and nontraditional appearance.