The devil, as they say, is in the details. Nowhere is that more apparent than when it comes to lawn care. If you want to know why one guy's lawn looks like the fairway at Augusta National and his neighbor's looks like he held a music festival on it over the weekend, the answer is: one has paid attention to the details and the other hasn't. Those details include everything from selecting the right grass for the environment to understanding all aspects of the aerator vs tiller debate.
Aerating and tilling are two means to what is essentially the same end: nurturing the soil your lawn depends on. If that soil is not properly maintained it will not be able to support a vibrant, resilient, great-looking lawn. Below, I'm going to get into the important differences between a tiller and aerator, as well as when to use each and their pros and cons.
What is the Difference Between an Aerator and a Tiller?
"Is a tiller the same as an aerator?" That's a question I get a lot. The answer is "no". Let's look at the differences now.
What is an Aerator and What is it Used For?
Dirt has been soaking up water and nutrients for billions of years and doing a pretty good job enabling things to grow just about everywhere. But growing ginormous weeds in a vacant lot and growing a healthy, vibrant lawn are two different things. Weeds will grow in any old patch of dirt on the sidewalk. A great lawn needs quality, nutrient-rich soil underneath it or the grass will die and those weeds will move in.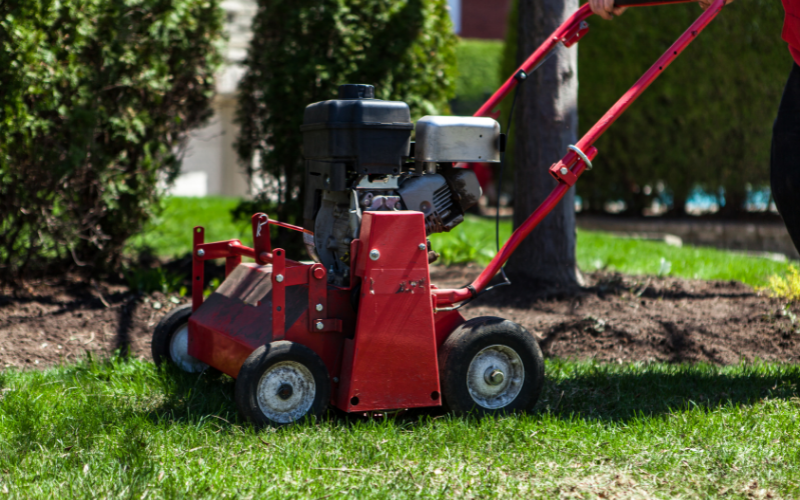 The aerator is one way of making sure the soil under your lawn holds up its end of the bargain. The aerator creates countless holes in the soil a few inches deep that enable water and nutrients to more easily penetrate the surface. The result is stronger, more colorful, more resilient grass with a more robust root system.
What is a Tiller and What is it Used For?
Tilling is the process of turning the top layer of soil over to prepare it for planting, in this case planting grass seeds or sod. You can no doubt tell right away that turning the soil over is fundamentally different than simply poking some holes in it. Deciding to till the lawn is a major decision and one that should never be made lightly.
Tilling is usually done when you have reached a breaking point with a part or all of your lawn and want to start over. It allows you to chop up the old grass, weeds and whatever else is on the lawn patch in question, turn it under and use it to create a kind of compost that will nourish the new seeds or sod you're about to plant.
What is the Best Time for Aerating?
Most lawn care experts agree that the best time for aerating is during the spring or early fall. You should never aerate when the ground is too wet, such as early spring when there is a lot of snowmelt, April showers and the like. Wait until things dry out a bit. It's also important to mow the lawn and to remove any sticks and twigs before aerating.
Right after aerating is the best time to seed the lawn or to apply fertilizer. The seeds will have the best chance of taking properly, and the fertilizer will be delivered right to the roots where it can do the most good. If you seed after aerating it's important that you water every day for the next couple of weeks to give the seeds a chance to properly germinate. But don't overdo it. Water each area of the lawn for about 20 minutes. After a couple of weeks, you can back off and water every other day.
When to Use a Tiller vs an Aerator
The best time to till your lawn in preparation for starting over is late summer. At that time the ground is as warm as it's likely to be all year and weeds are not as active. As a result, the grass seeds will have the best chance to germinate without having to compete with the weeds for nutrients. If you plan on laying down new sod you should wait until early autumn, when temps are a bit cooler and there tends to be a little more rain.
Before tilling you need to prepare the ground by removing rocks and sticks. If the ground is dry and hard you should water it a bit too and give the water time to soak in. Don't create mud, but make sure the top few inches of soil are damp. This will make it much easier for the tiller to do its job effectively. The water will also mix with the grass and other material that is turned under, helping to break it down and release nutrients.
The Pros and Cons of Tilling vs Aerating a Lawn
When it comes to aerating vs tilling they each have their upside and downside.
Aerating Pros
Aerating is an easy DIY project.
Aerating helps your lawn absorb water and nutrients.
You don't have to worry much about over-aerating.
Aerating Cons
Aerating is simple but labor-intensive.
Renting an aerator can be expensive.
Tilling Pros
Tilling allows you to start over with a section of lawn.
Tilling prepares the ground for seeding or sod.
Tilling can be done in the fall when the weather is cool.
Tilling Cons
You'll have an unmatched section of lawn for a while.
May bring weed seeds to the surface where they can take hold.
It's hard work.
The most important thing to remember is that you employ the tiller and aerator for different purposes. Aerating is used to help deliver water and nutrients to the roots more effectively. While tilling is used to start over again on a patch of lawn.
Aerator vs Tiller: Conclusion
Both the aerator and the tiller are tools that address the soil under the lawn, unlike lawnmowers and edgers that address the visible part of the lawn. They each have an important role to play in lawn care and can help you turn your post-music festival lawn into the fairway at Augusta National lawn you've always wanted.